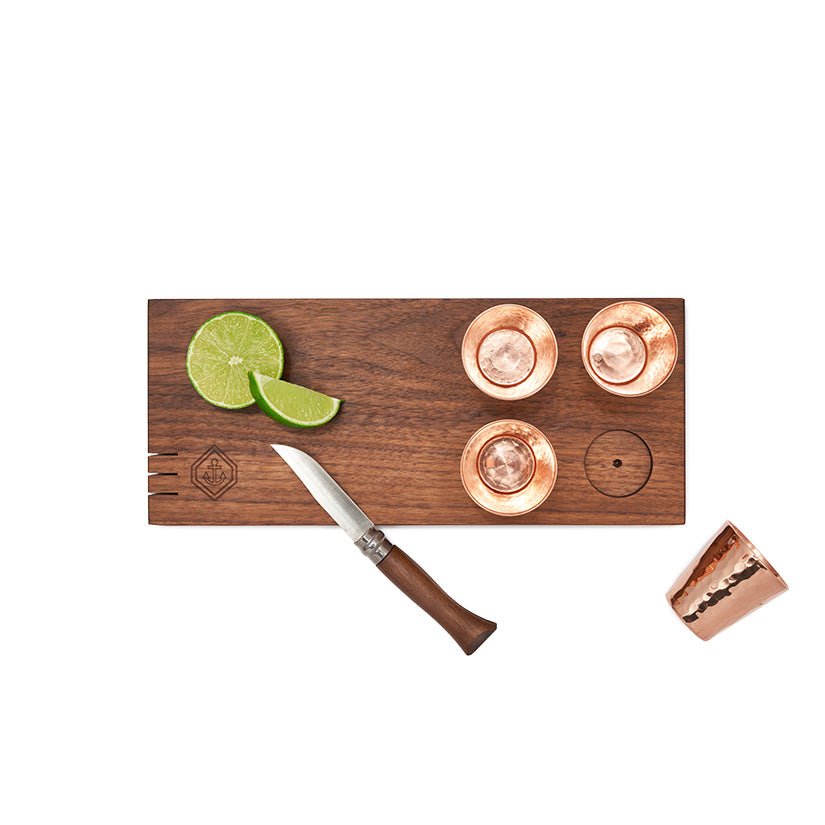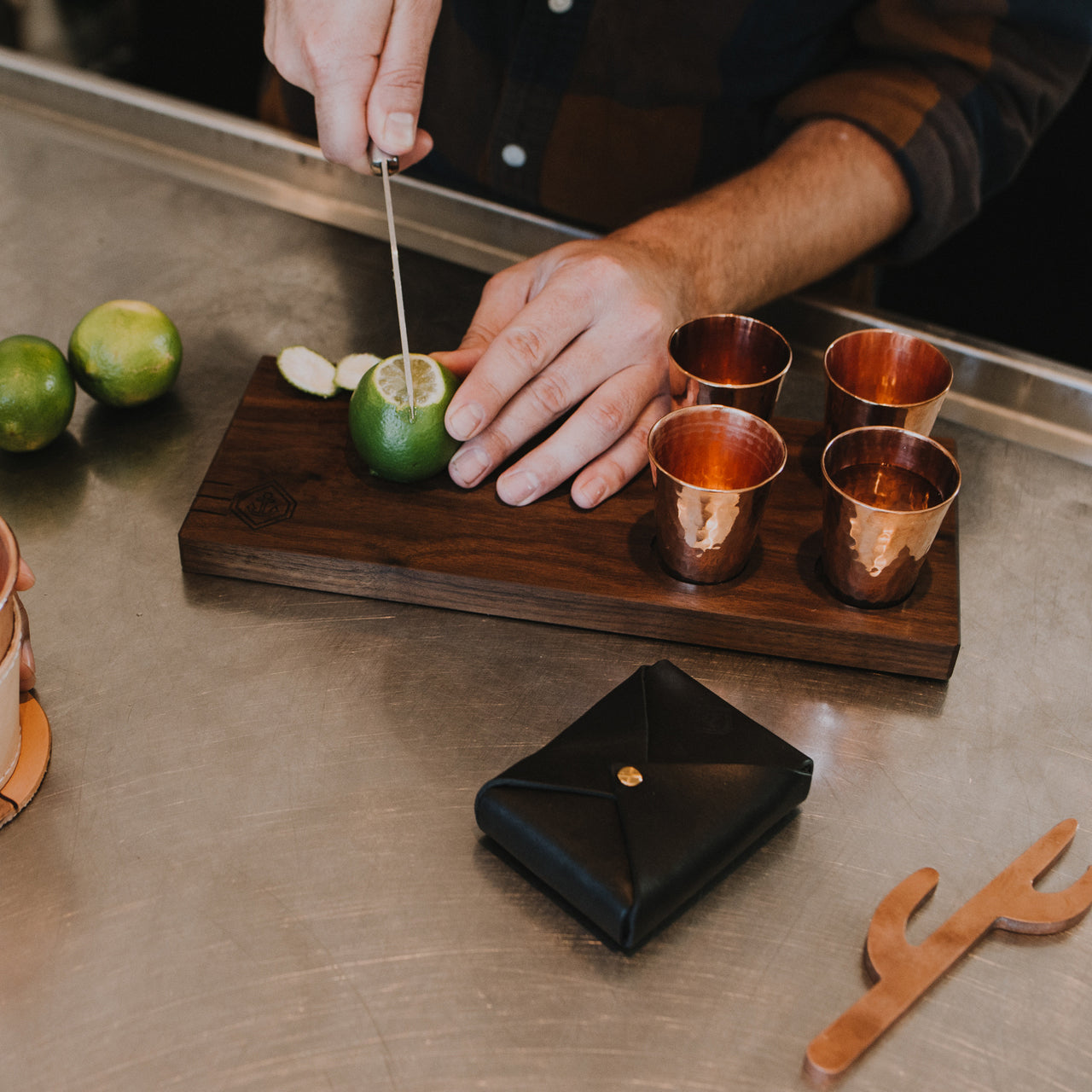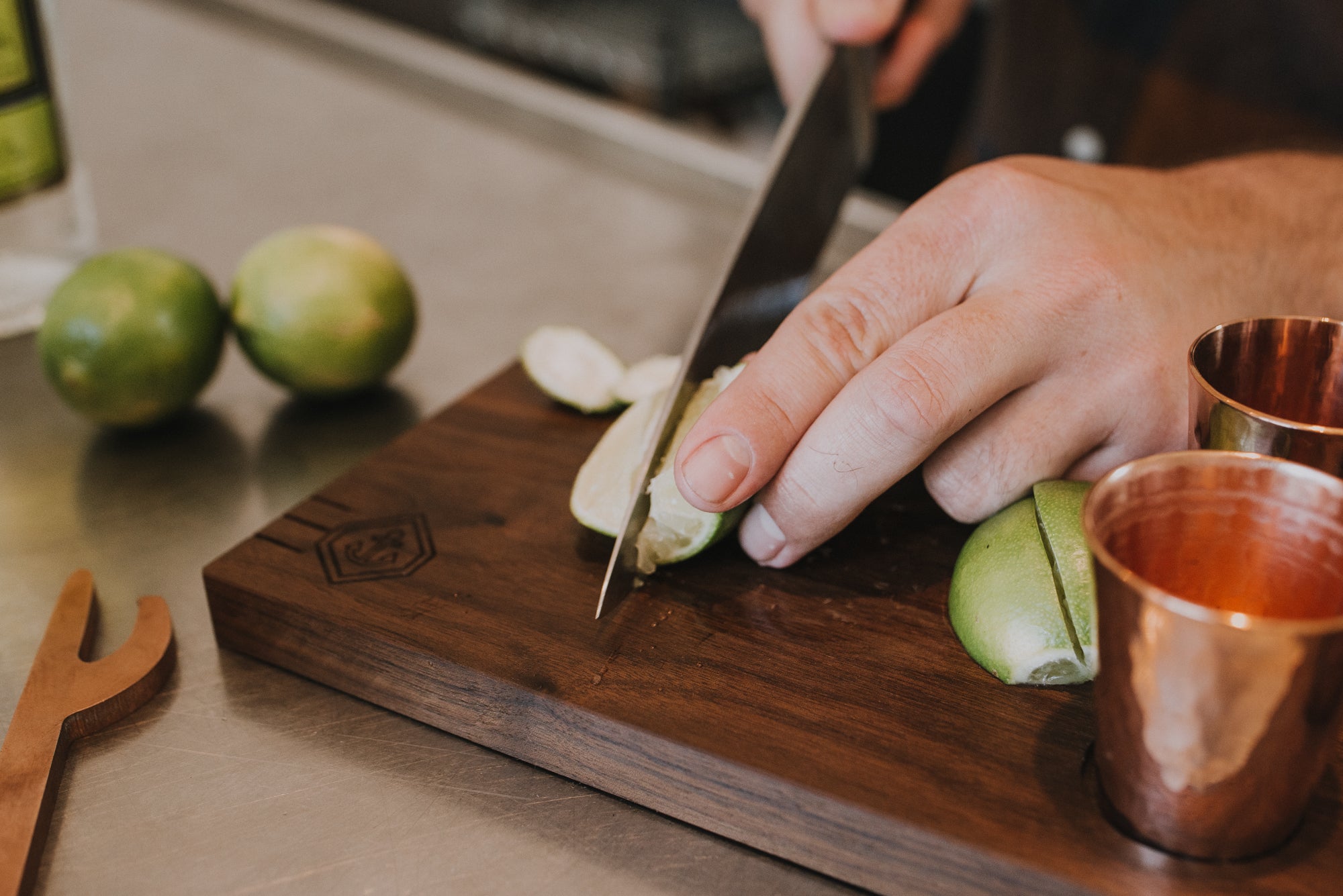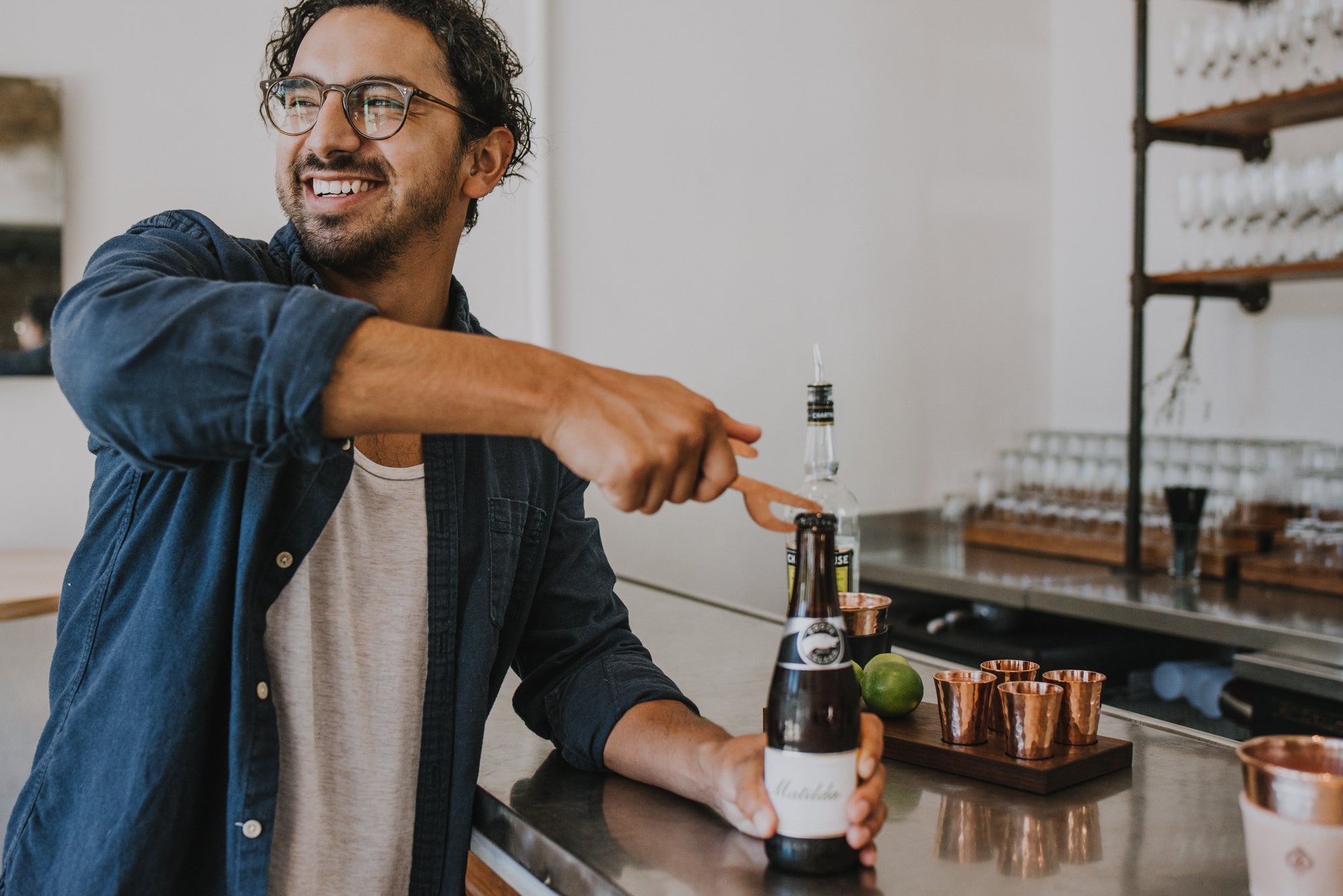 SOS x Sertodo | Shot Board
We've joined forces with our incredible neighbors at Sertodo Copper to bring you a truly remarkable creation - the SOS x Sertodo Shot Board. Crafted with love and passion, this handcrafted masterpiece will take your bar setup to new heights while adding a touch of artisanal elegance.
First things first, let's talk about the materials. Our team has poured heart and soul into designing a solid walnut flight and cutting board that's as sturdy as it is visually stunning. The rich, warm tones of the walnut will instantly catch your eye and make you the envy of all your friends.
Setting this shot board apart is the inclusion of Sertodo's hand-hammered 100% recycled copper shot glasses. These gleaming gems are a testament to the dedication and craftsmanship that goes into every Sertodo creation. Each cup is lovingly formed, hammered, and shaped by skilled artisans, resulting in a set of shot glasses that are truly one-of-a-kind.
Not only is the SOS x Sertodo Shot Board perfect for tequila or mezcal flights, but it's also ideal for sharing drinks with your closest pals. Whether you're celebrating a special occasion or simply enjoying a casual evening, this shot board will become the centerpiece of your gatherings, sparking conversations and creating lasting connections.
And let's not forget about its gifting potential! Searching for the perfect present for a friend who loves hosting? Look no further. With its combination of elegance, functionality, and the added touch of artisanal collaboration, it's sure to bring a smile to their face.
So why wait? Elevate your bar setup to new heights with the SOS x Sertodo Shot Board. Handcrafted with love, this extraordinary creation is ready to make your tequila tastings, mezcal moments, and shared drink experiences truly unforgettable. Cheers to good times and the joy of craftsmanship!
5 in. wide x 12 in. long

Knife shown is not included.
The Shot Board is made of solid walnut that has been oiled. We do not recommend putting this item in the dishwasher. After washing with soap and water, fully dry for best care. To keep your wood nourished, your shot board can be oiled regularly with olive oil or butcher block oil. All are made from natural wood and each features unique variations and colorings. Wash and dry copper shot glasses immediately to prevent spotting, though some spotting will occur over time from reactions with tap water. Copper will patina with time, which many find appealing, but can be polished to it's original shine.
In a serendipitous twist of fate, our journey led us right next door to the remarkable coppersmiths at Sertodo Copper. Their passion for hand-hammered copper creations sparked a flame within us, igniting a desire to collaborate and create something truly extraordinary. Inspired by their craftsmanship, we set out to handcraft complementary wood boards and leather sleeves, carefully designed to showcase the beauty and artistry of their copper wares.

The fusion of copper, wood, and leather brought forth a harmonious symphony of textures and colors, resulting in a collection that celebrates the timeless beauty of traditional craftsmanship. This collaboration is a testament to the power of neighbors coming together, inspiring and supporting one another to create exceptional pieces that captivate the senses and stand the test of time.
Orders ship within 1-3 business days from Texas.
Custom items will ship within 7-10 business days.
Orders typically take 2-5 days to be delivered once shipped.
Tracking information is provided via email from hi.there@sonofasailor.co upon shipment of your order.
Yes! Son of a Sailor accepts returns on most new, unused items within 14 days of delivery for store credit. Please note that shipping is not refundable.
If you would like to return an item, please contact us with your order number and details about the product you would like to return. We will respond quickly with instructions for how to return items from your order.
Take a look at our full return policy here.
Share
Made in our Texas studio, with love, by hand.
Billy & Jessica are a husband and wife design team creating Son of a Sailor's original designs since 2011.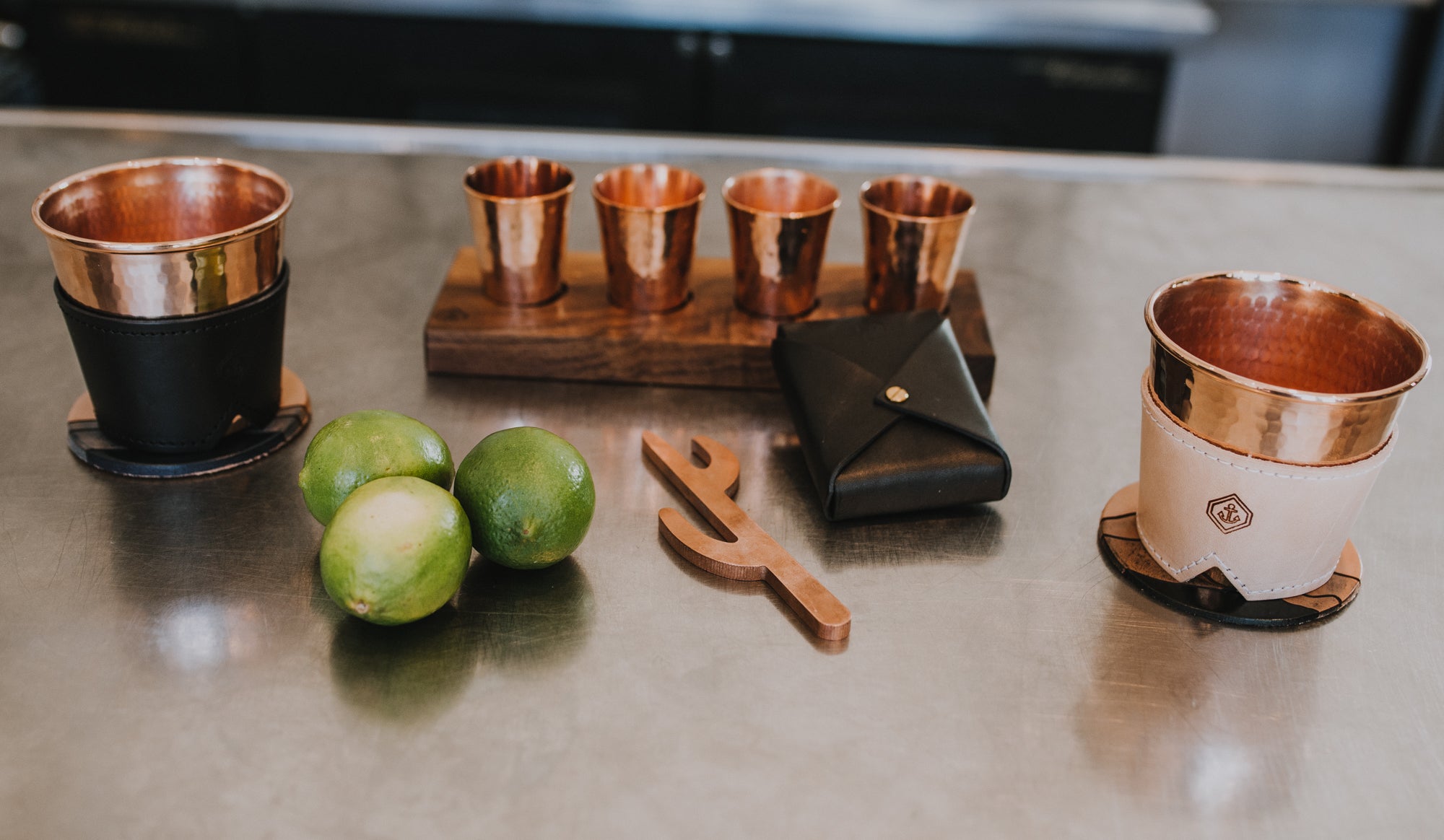 We cut, sand, detail, and finish all of our wood products in our Austin and San Antonio studios.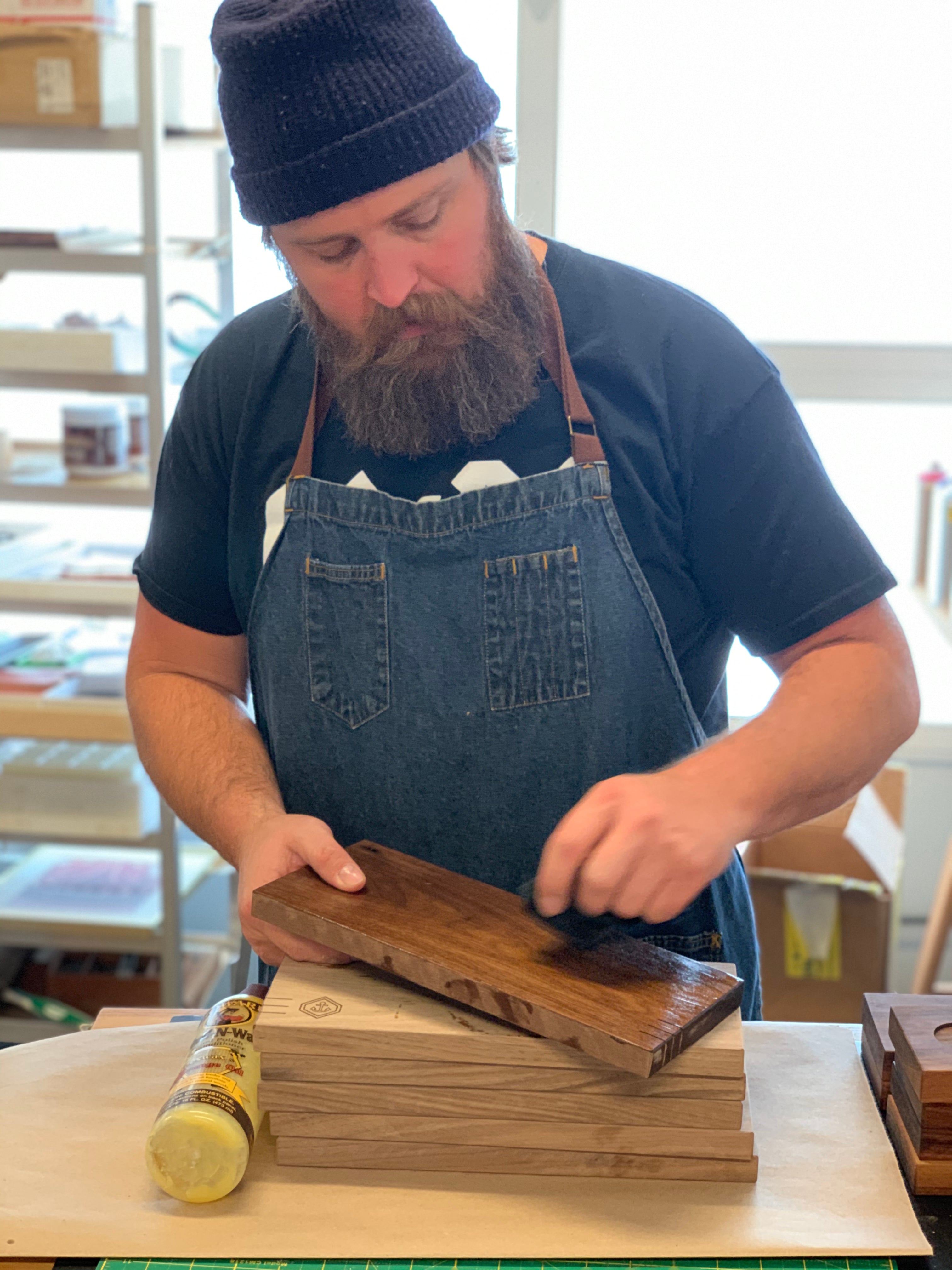 Our hardwood is sourced from a family-owned specialty wood business offering sustainably harvested kiln-dried hardwood.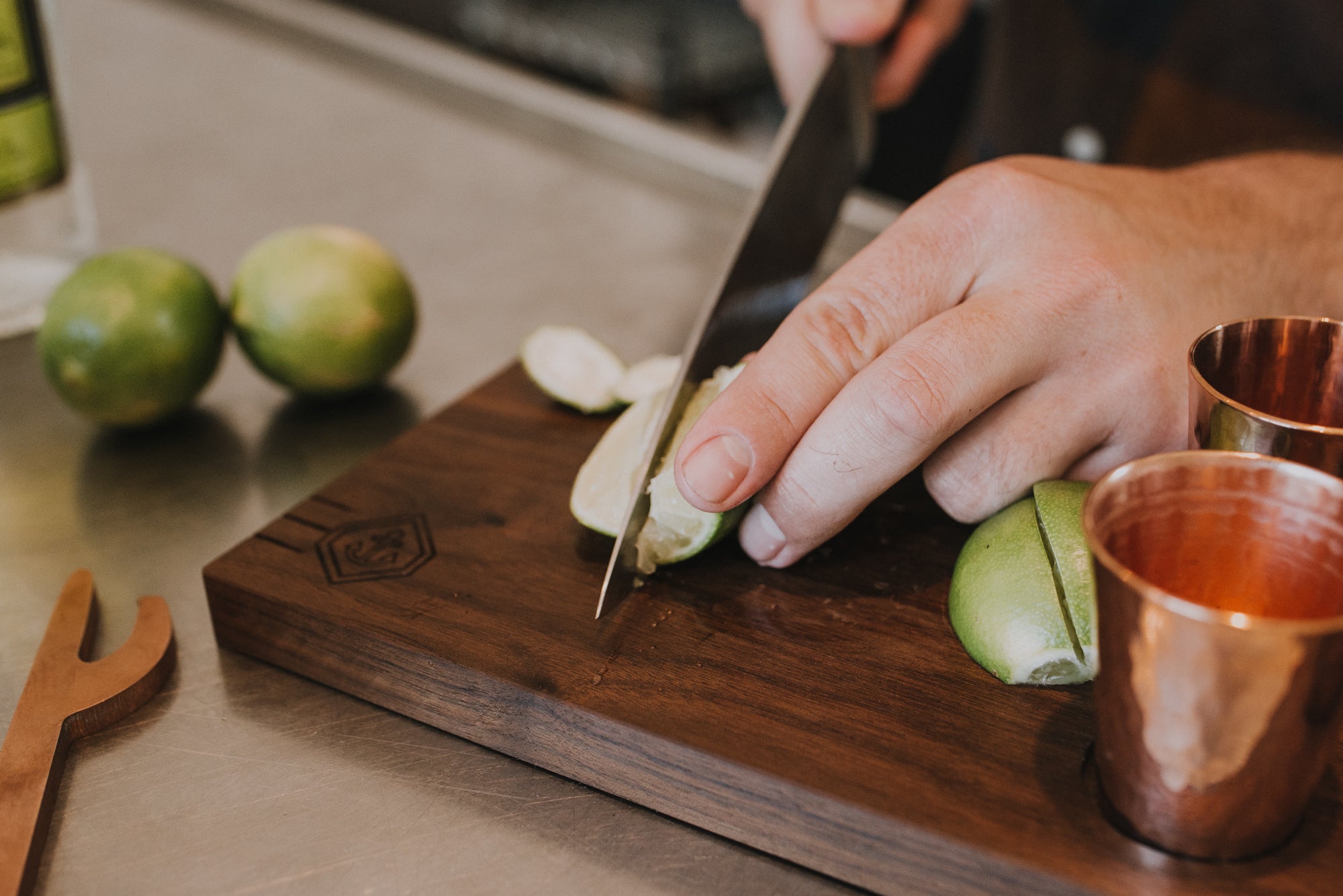 billy + jess
In 2011, Billy + Jessica launched Son of a Sailor out of their East Austin home. Before they were even married, they knew they wanted to join forces creatively. Over a decade later, Son of a Sailor has become a staple Central Texas brand with two brick & mortar locations. Get to know the hands behind the goods.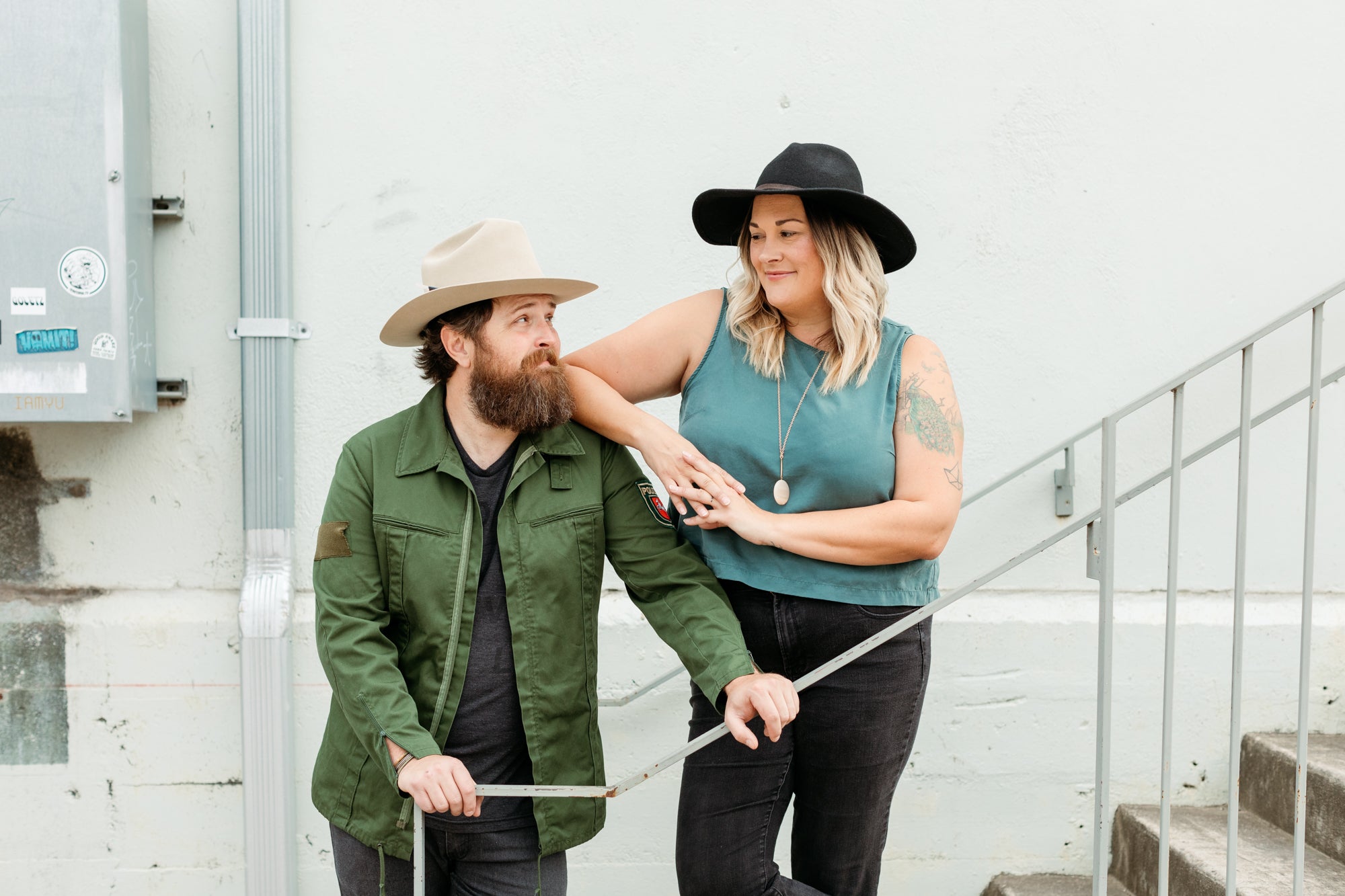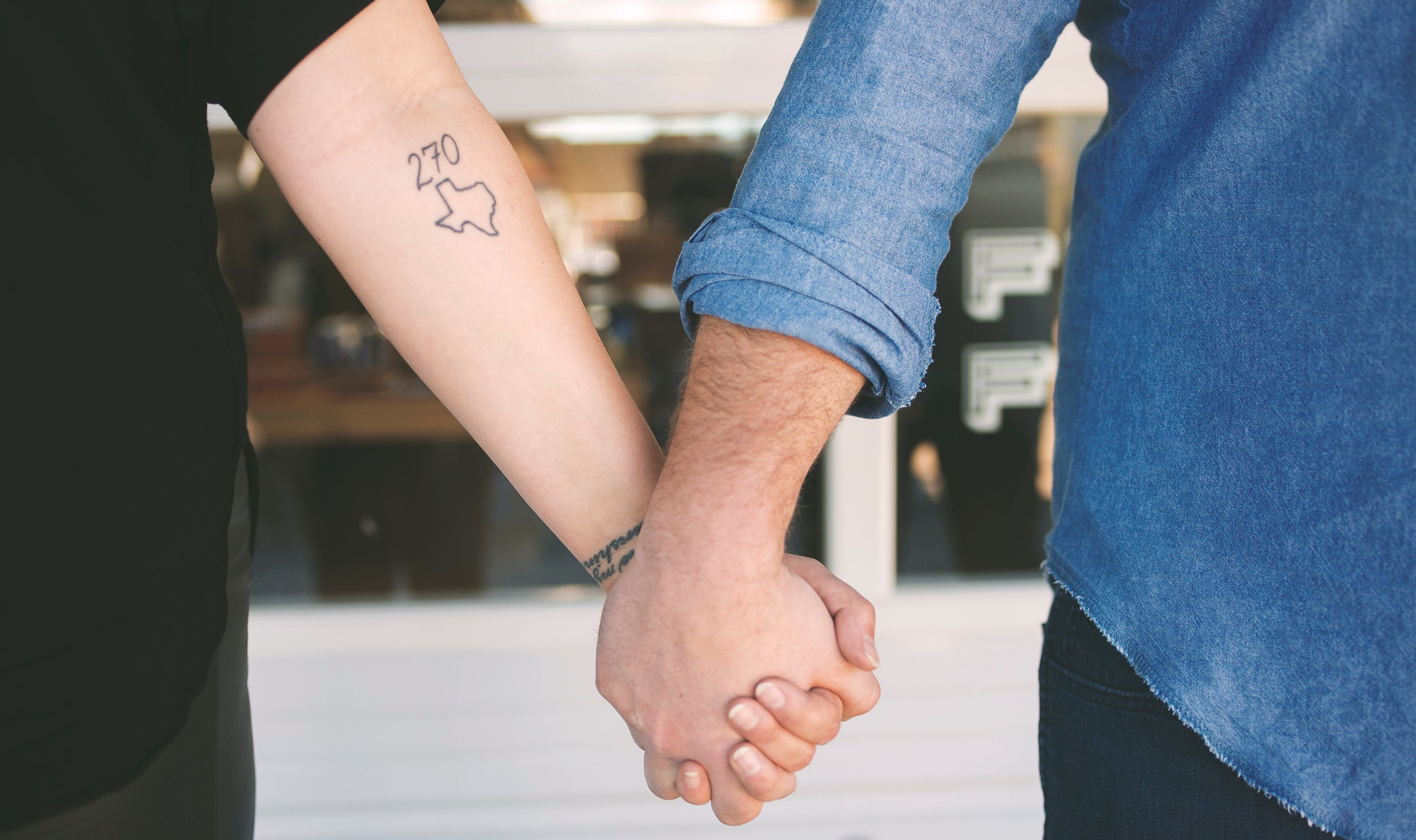 Deep in the heart of texas
While Jess was born in Texas, Billy "got here as fast as he could" as they say. Each having moved around the country more than their fair share, Billy and Jess met in San Francisco, and before too long Billy brought Jess back home.
A graphic designer and screenprinter by trade, Billy's work takes on organic forms while Jessica's background in fine art photography gives her a strong eye for framing, precision and composition. Son of a Sailor was born out of their shared love of thoughtful design and the ways it can spark joy in the lives of others.
made by hand
With the belief that a rising tide raises all ships, they work hard to preserve the art of the handmade. Much of the inspiration behind Son of a Sailor's products comes from the application of color, pattern and geometry to materials with a rich history and story.
In our shop, you'll find jewelry and lifestyle goods ranging from beaded earrings and bracelets to painted keychains, playful home goods and men's leather accessories—all of which are designed with the intent of bringing happiness to life's daily necessities.