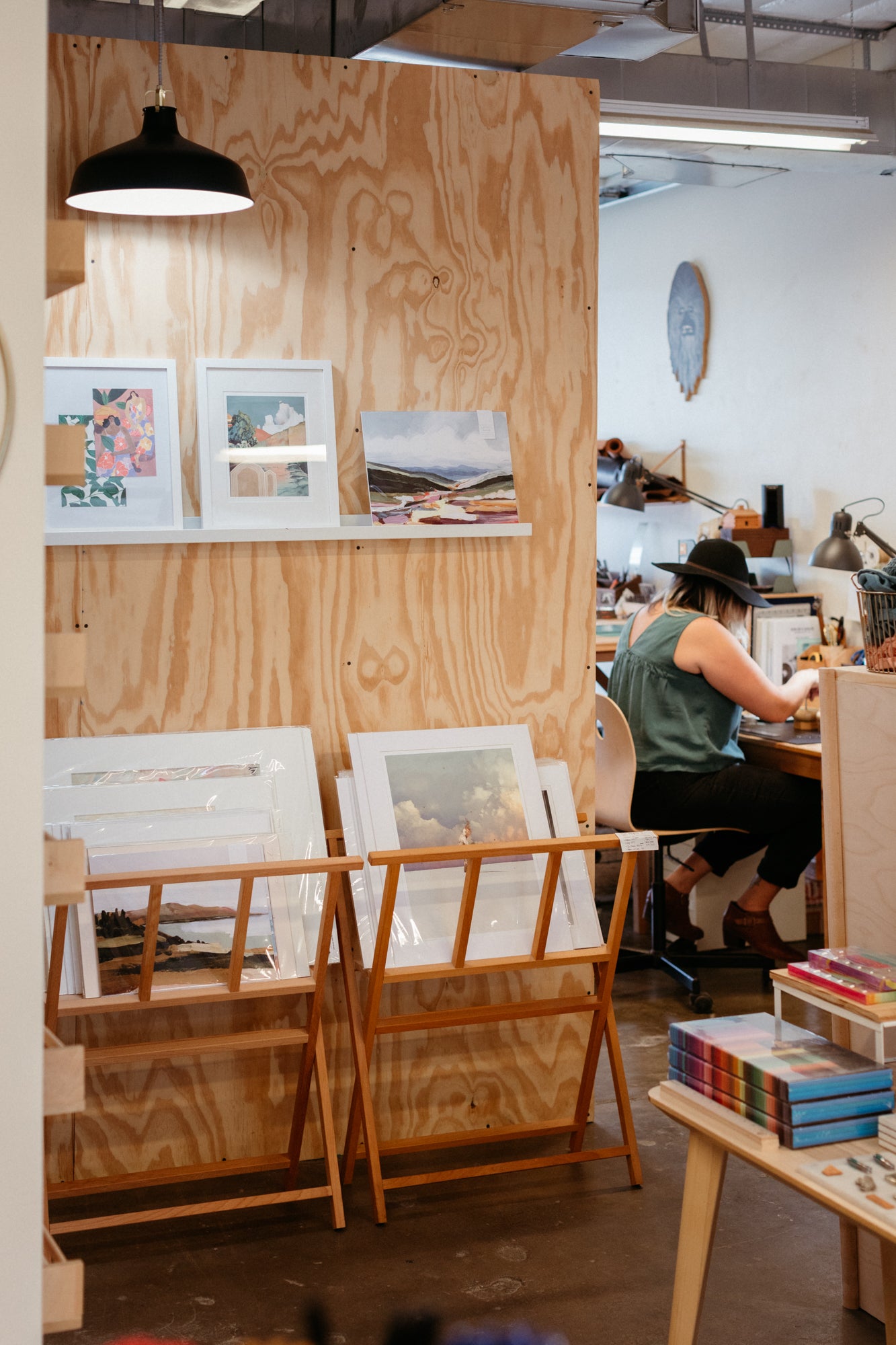 made in austin, texas
Son of a Sailor began in the back room of our East Austin home in May of 2011. While we have come a long way in the decade since we began, every item is still made by hand in our East Austin studio.
The front of house is a curated storefront where other design-led brands are merchandised alongside Son of a Sailor goods, but peek around the corner and you'll see where all the magic is made!
Leather goods
We work with Wickett & Craig, an American tannery, to source beautiful, high-quality leather that comes from North American cattle. While there are many beautiful leathers that come from other countries, we are proud to produce leather products that are fully Made in the USA!
The leather that we source is also vegetable tanned, which is a traditional method used by skilled craftspeople that uses organic and biodegradable materials. It is more difficult and takes more time than alternative chemical-based methods, but results in gorgeous, heritage-quality leather hides. 
We bring full and partial hides into our studio where we cut, stitch, and finish each piece. Our designs include pieces inspired by origami, the effort to create pieces from single pieces of leather, and donning hand-painted blocks of color, patterns, and accents.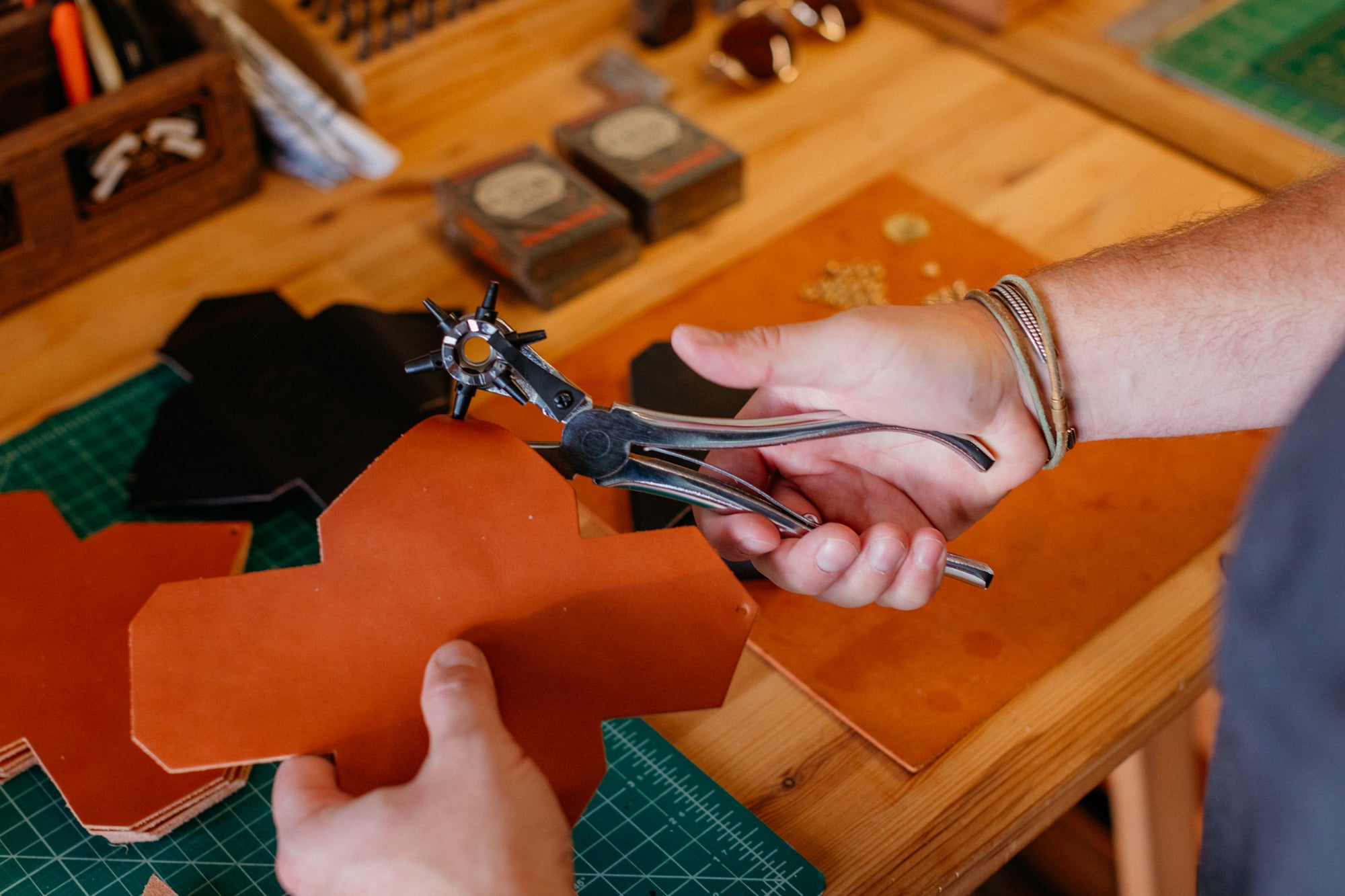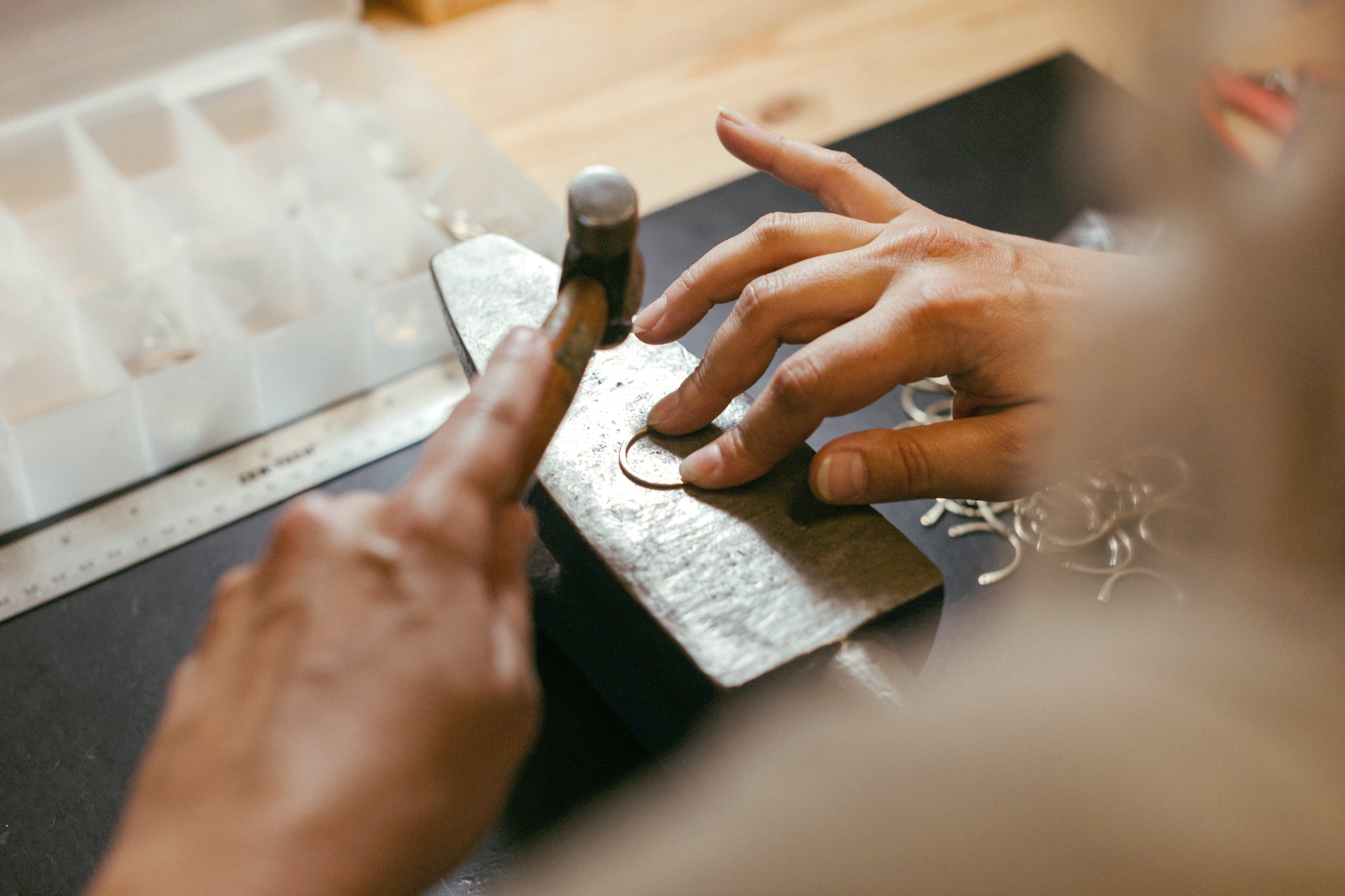 jewelry
Our goal is to create jewelry from beautiful and unique heirloom quality materials at an attainable price point. We search for gemstones in rich tone and color, glass beads in gorgeous color combinations, and unusual materials like our Greek ceramic beads.
We use 14k gold-filled chain and findings, which should keep their shine for a lifetime of wear, but are a fraction of the cost compared to solid gold.
The bronze and sterling shapes used in our line are hand-forged and cast from custom molds to ensure their distinctive style.
Our designs strive for a unique intersection of form and color. Whether more organically shaped or precisely crafted, inspiration stems from geometry, glyphic writing, and the landscape around us.
process
From tip to toe, we are thoughtful about every part of the production process. The origin of our materials, the development of the designs, even down to the name of each item.
Enjoy your Son of a Sailor goods knowing that they were cared for every step of the way.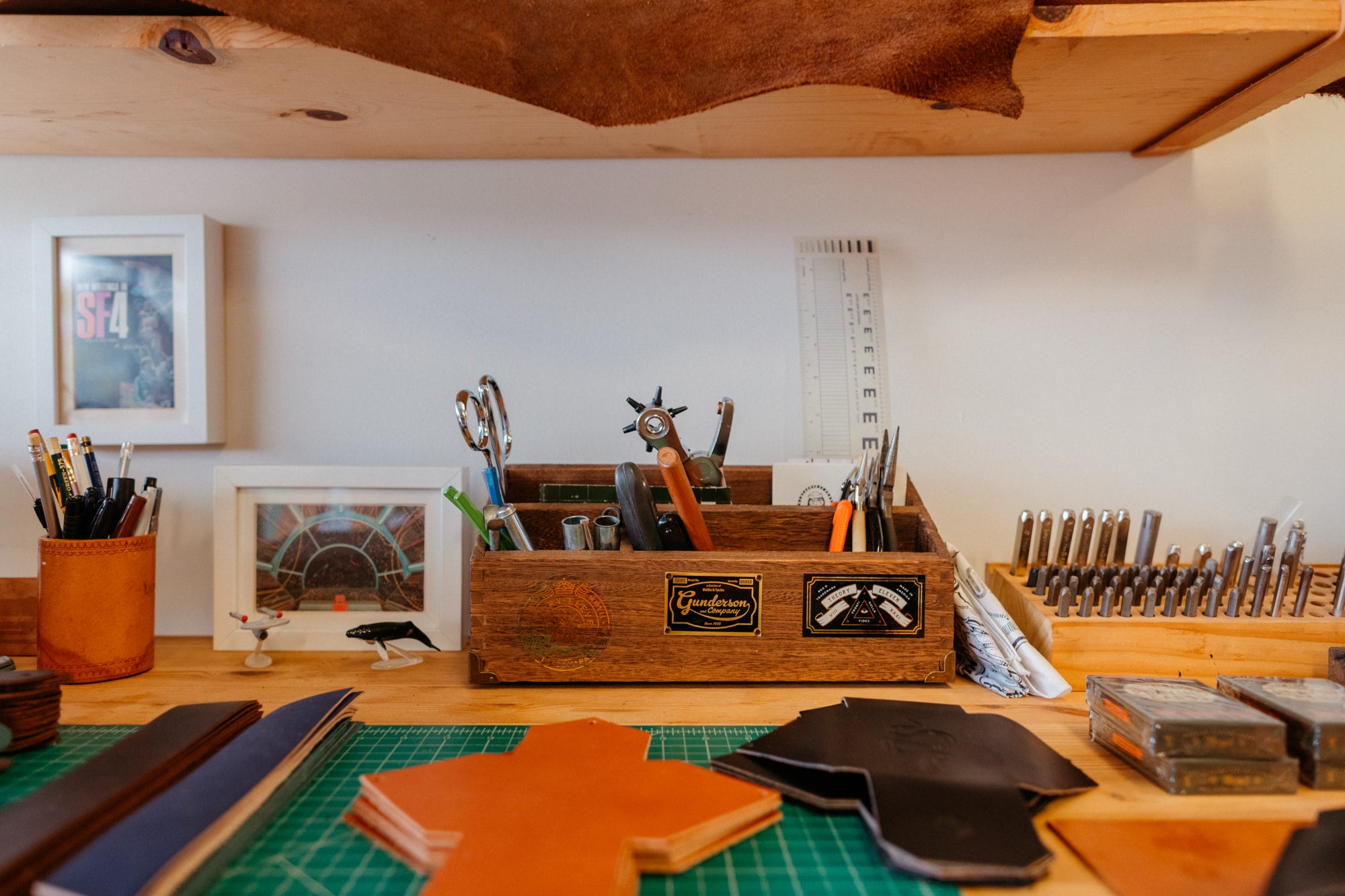 caring for your goods
Our jewelry is made of hand-forged brass, cast bronze, sterling silver, gold-filled chain, and various ceramic beads and gemstones. The chain used in our pieces is either sterling silver or 14k gold-filled, which should last for a lifetime of wear. If it becomes dirty, just wipe with a dry cloth. The pendants in this collection are made of hand-forged silver, brass, or cast bronze, all of which can be cleaned using a polishing cloth and should be kept in a clean dry place to prevent patina. You can use a jewelry polishing compound if you desire, but care should be taken to avoid getting the compound on other elements such as gemstones and beads.
Leather items should be kept in a clean, dry place and leather jewelry should not worn while showering or swimming.
Leather will become more brittle and less conditioned with repeated exposure to water, so it is best to avoid getting leather items wet.
Natural veg-tan leather will tan with use and exposure to sunlight, moisture, and oxygen. Over time, veg-tan leather should be expected to grow darker, more brown, and show lovely history of use. 
Brass and bronze are metal alloys that antique, or oxidize, over time. With exposure to the elements (moisture, salt in the air, etc.) the metal will tarnish and will grow to a dark golden brown finish. Brass and bronze may be polished to restore their shine, if desired, similarly to sterling silver.
Wash and dry copper pieces immediately to prevent spotting, though some spotting will occur over time from reactions with tap water. Copper will patina with time, which many find appealing, but can be polished to it's original shine. We recommend using Wright's Copper Creme to brighten it up, use with their instructions. 
In order to achieve our signature steel appearance, our steel has earned a specific oxidized patina and has been coated with a varnish.  For best results, do not put in the dishwasher or soak in water for long periods of time. In the words of our fearless leader, Billy, "It's tough as nails, don't worry about it."
Raw wood items like our Sertodo shot boards are finished with conditioning oils to maintain the finish of the wood. Boards should not be put in the dishwasher, but rather should be washed by hand and dried immediately after wash. Regularly adding oil (like cutting board oil or olive oil) will keep wood conditioned.