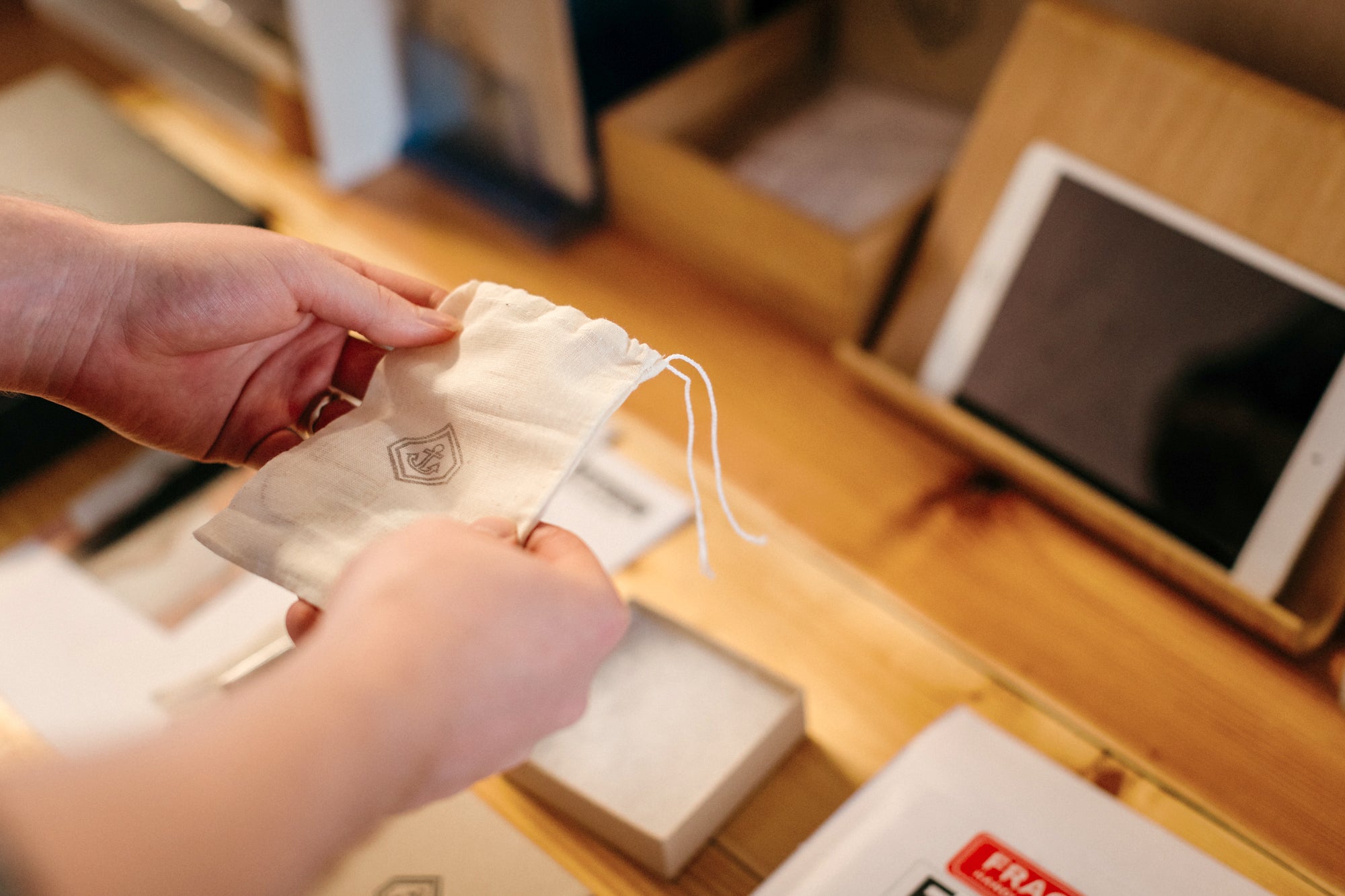 Frequently Asked Questions
Please allow 1 - 3 business days for in-stock items and 7-10 business days for custom items to ship. Please note, during peak season more time may be needed to complete your product. If you want to know if a specific item is in stock or if you have a deadline in mind, please email us at hi.there@sonofasailor.co.
All items are shipped in their original packaging, according to the brand. Son of a Sailor items will be packaged in a branded cotton bag or a box, depending on the item. We do offer gift wrapping for any items, which can be selected at checkout!
Son of a Sailor's standard shipping is USPS First Class or Priority Mail. FedEx shipping is also available.  All available options should be shown at checkout. If the shipping option you desire is not shown, please don't hesitate to contact us to make arrangements! 
Yes! International orders will be accompanied with customs form that states the full value of the item(s) purchased. Please note that your country may levy duties, taxes, and/or customs charges for your purchase. Son of a Sailor is not responsible for any import charges your country may impose, nor will we misrepresent what we are shipping to you. While we do our best to ship with integrity, international buyers are responsible for bringing any packaging requirements specific to their country to Son of a Sailor's attention. 
When shipping international orders via the US Postal Service we are unable to track your package once it leaves the United States. Additionally, insurance claims for USPS International shipments can be difficult or impossible to collect on. We recommend selecting FedEx as your courier service, as they provide tracking for international packages, and have more reliable insurance claim processes.
We will do our best to ensure the arrival of your package and you will receive an email with tracking information for your order as soon as it is shipped. (Don't see that email? Be sure to check your spam folder!) Have an issue with your order? Please contact us within 7 days with any information on how we can help you!
If your package arrives damaged, please photograph the item before it is opened to document the incident upon arrival so that an insurance claim may be processed. We will ask for these photos for any damaged item claim, so send them to us first thing to save time!
If your item does not arrive, but was marked as delivered, the first thing we will ask is that you check for some common shipping snafus! Are you in an apartment? Make sure to check with the front office. Ask your neighbors! Ask your friendly mail delivery person! Often times there are mis-deliveries that can be solved by looking in your direct vicinity.
While Son of a Sailor is not responsible for delays, damage or loss, we will work with you to locate your package, file a claim with the appropriate shipping provider, and resolve the situation to the best of our ability! 
Yes! Son of a Sailor accepts returns on most new, unused items within 14 days of delivery for store credit, less the cost of shipping. If you would like to return an item, please contact us with your order number and details about the product you would like to return. We will respond quickly with instructions for how to return items from your order. We reserve the right to charge up to a 20% restocking fee on returns.
Please note that Son of a Sailor is not responsible for item loss or damage in-transit for items returned to our studio, so we recommend shipping items with delivery confirmation/insurance to avoid issues. When returning, please make sure merchandise is packaged appropriately to avoid damage in shipping. If an item is returned to the Son of a Sailor studio in any condition besides new, a return may not be granted.
Sales are final on: all custom items, sale items, all apothecary, consumable goods, and any items marked "final sale." 
Please note that colors may look different on the screen than they do in person.
If an item returned is in any condition other than new, if it appears used, or if it is damaged, full store credit may not be possible. A percentage of the original price may be forfeited, or store credit/exchange denied entirely. Son of a Sailor is not liable for any shipping charges, including any that may be necessary to send back an item in the event that it is not returnable. 
Yes! We are happy to talk with customers about special requests, custom items, large quantities, etc. Please email us at hi.there@sonofasailor.co with as much information about what you are looking for, and we'll be in touch!
Yes! Son of a Sailor is pleased to partner with stores around the world. We try our best to ensure that stockists are not only a good fit, but that we respect the location and proximity of each of our stockists whenever possible. If you are interested in carrying Son of a Sailor, please visit our Wholesale page and tell us a little bit about your store!
Take a gander at our handy-dandy care page, where we outline the best practices in caring for your Son of a Sailor goods.