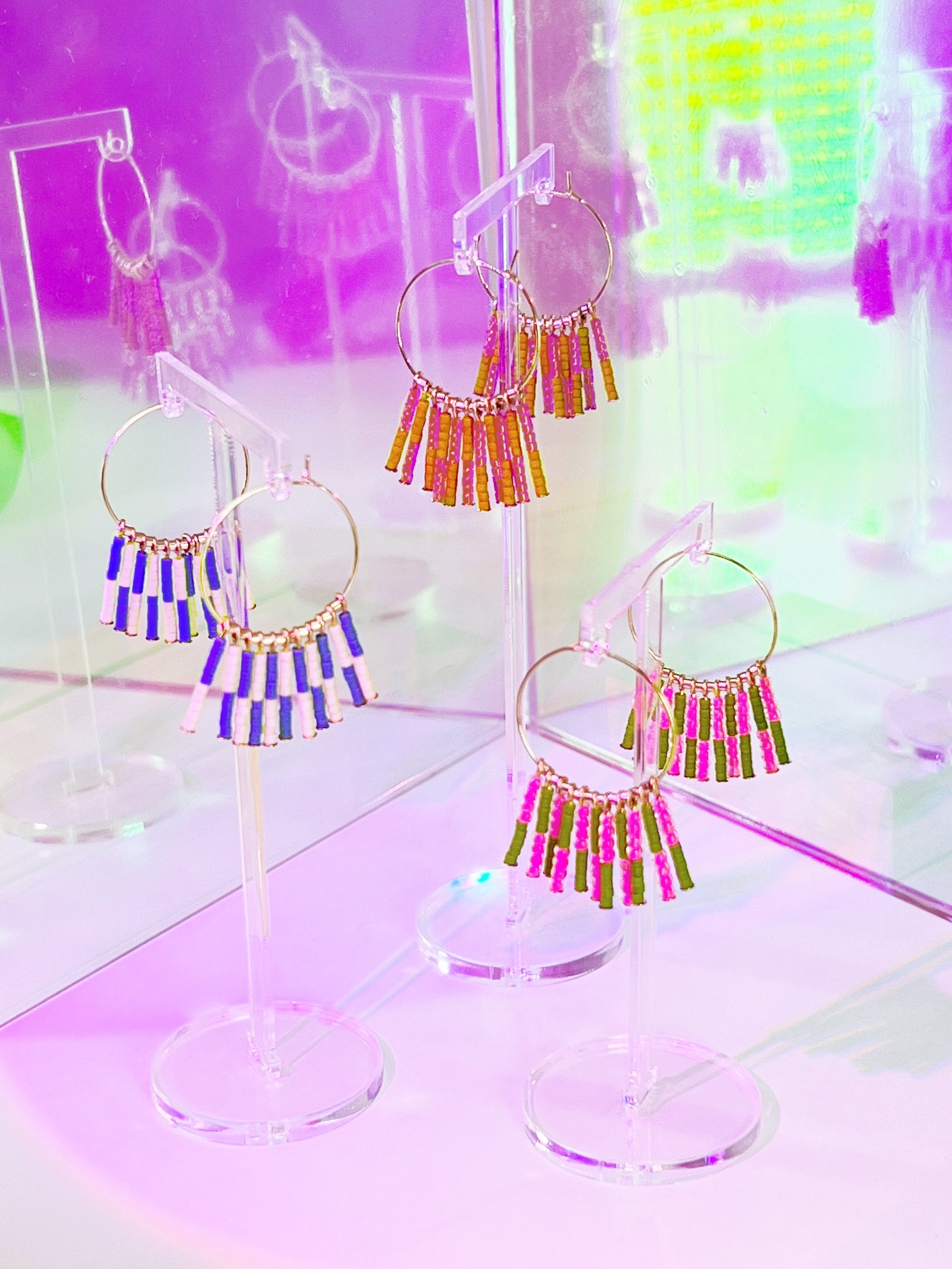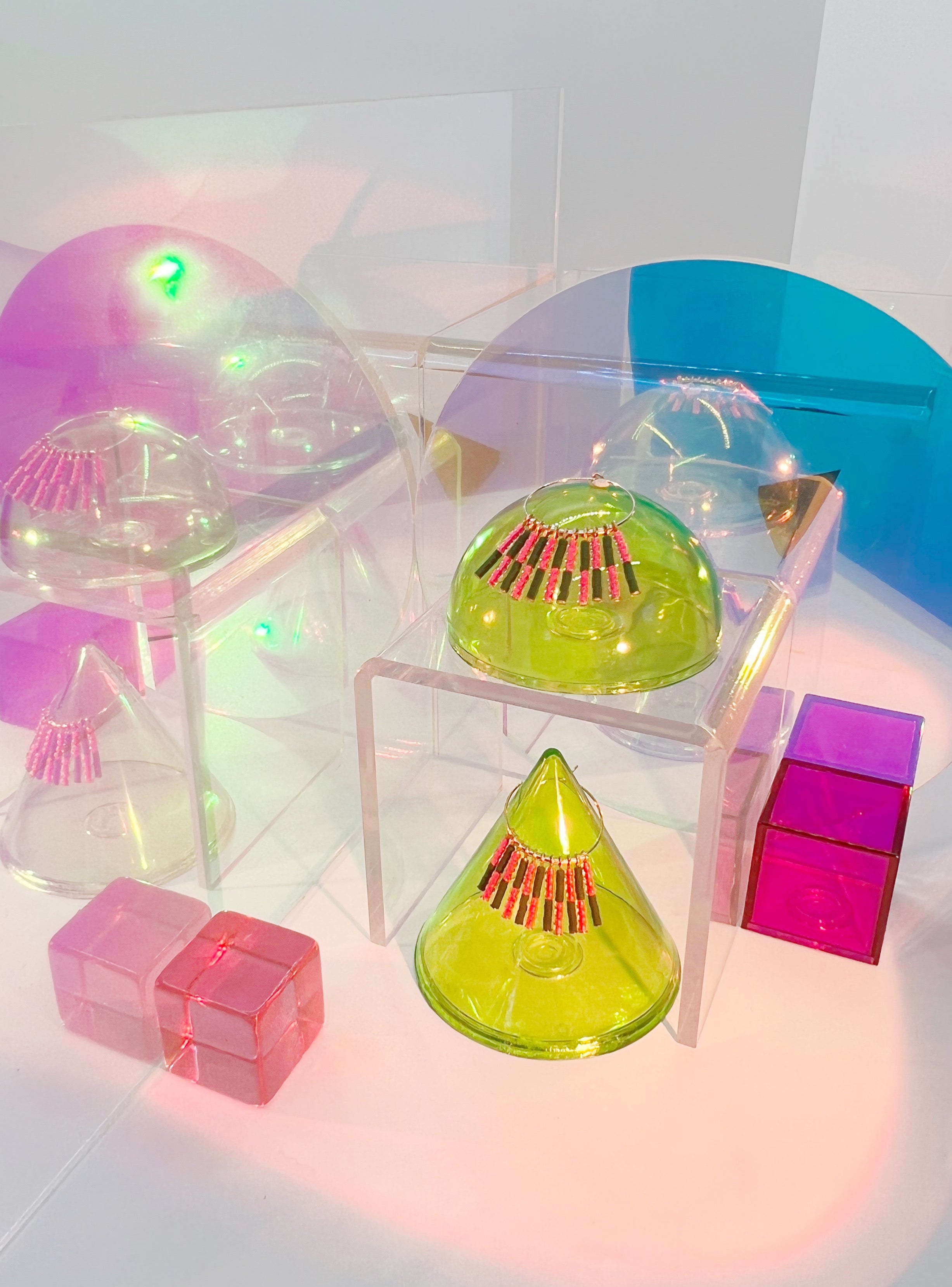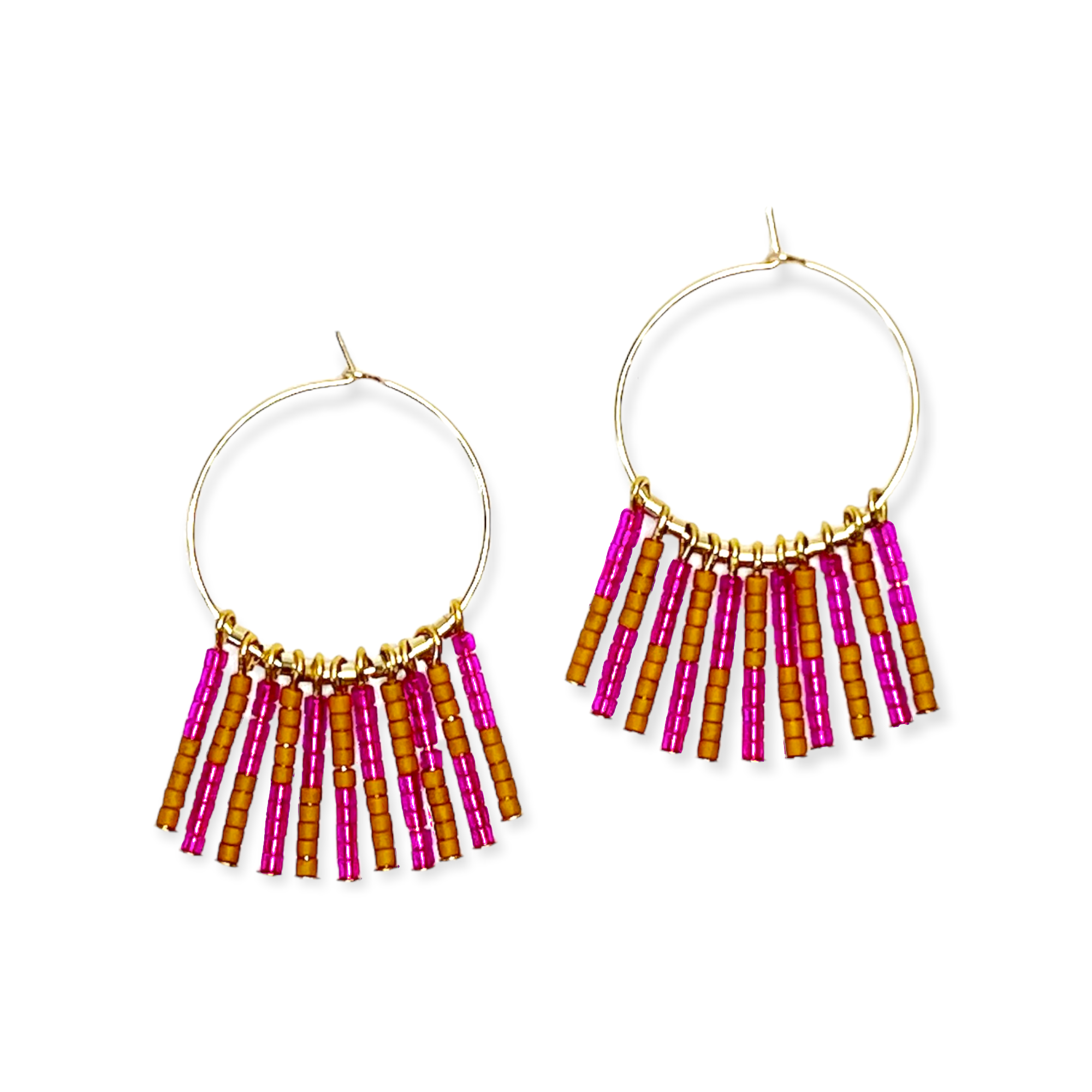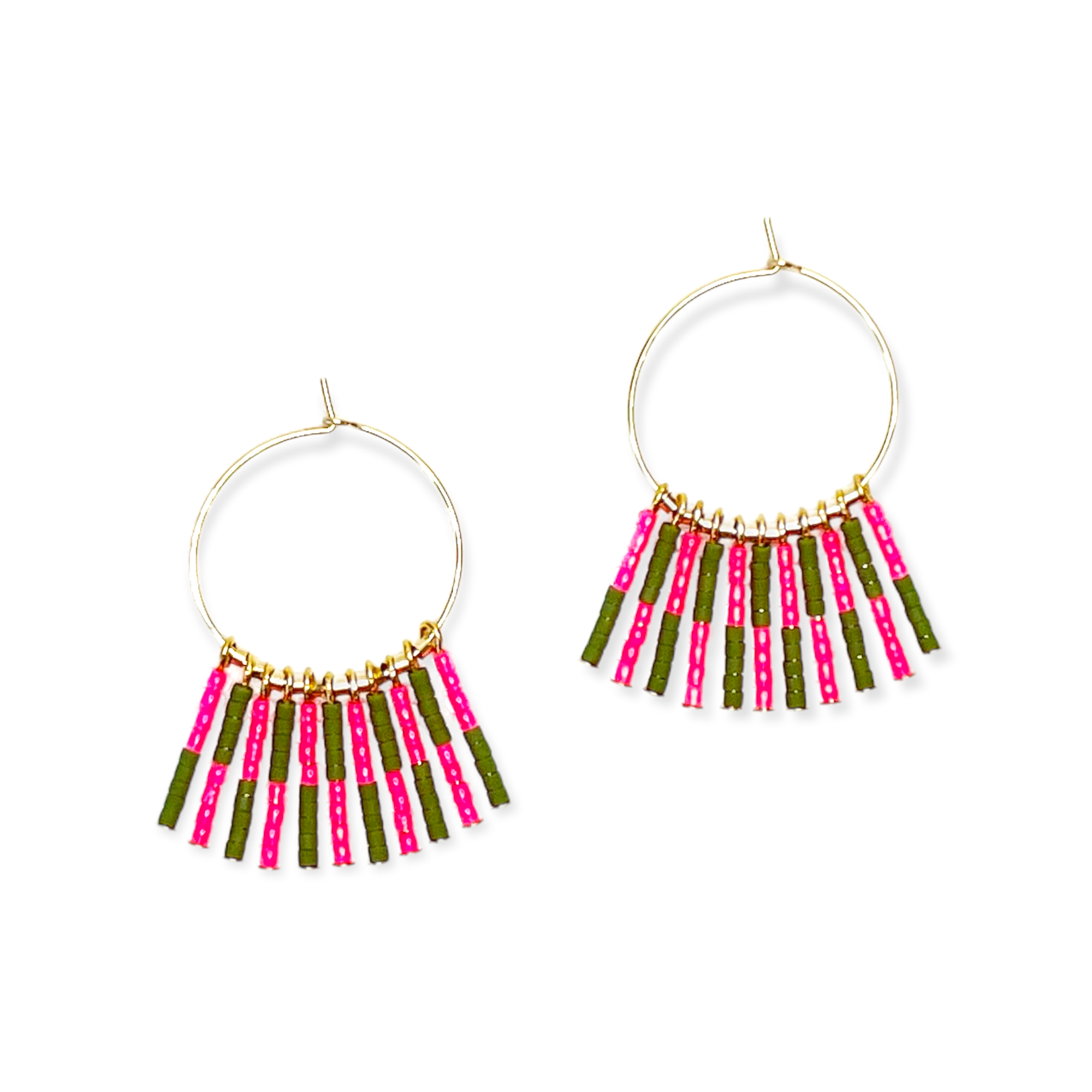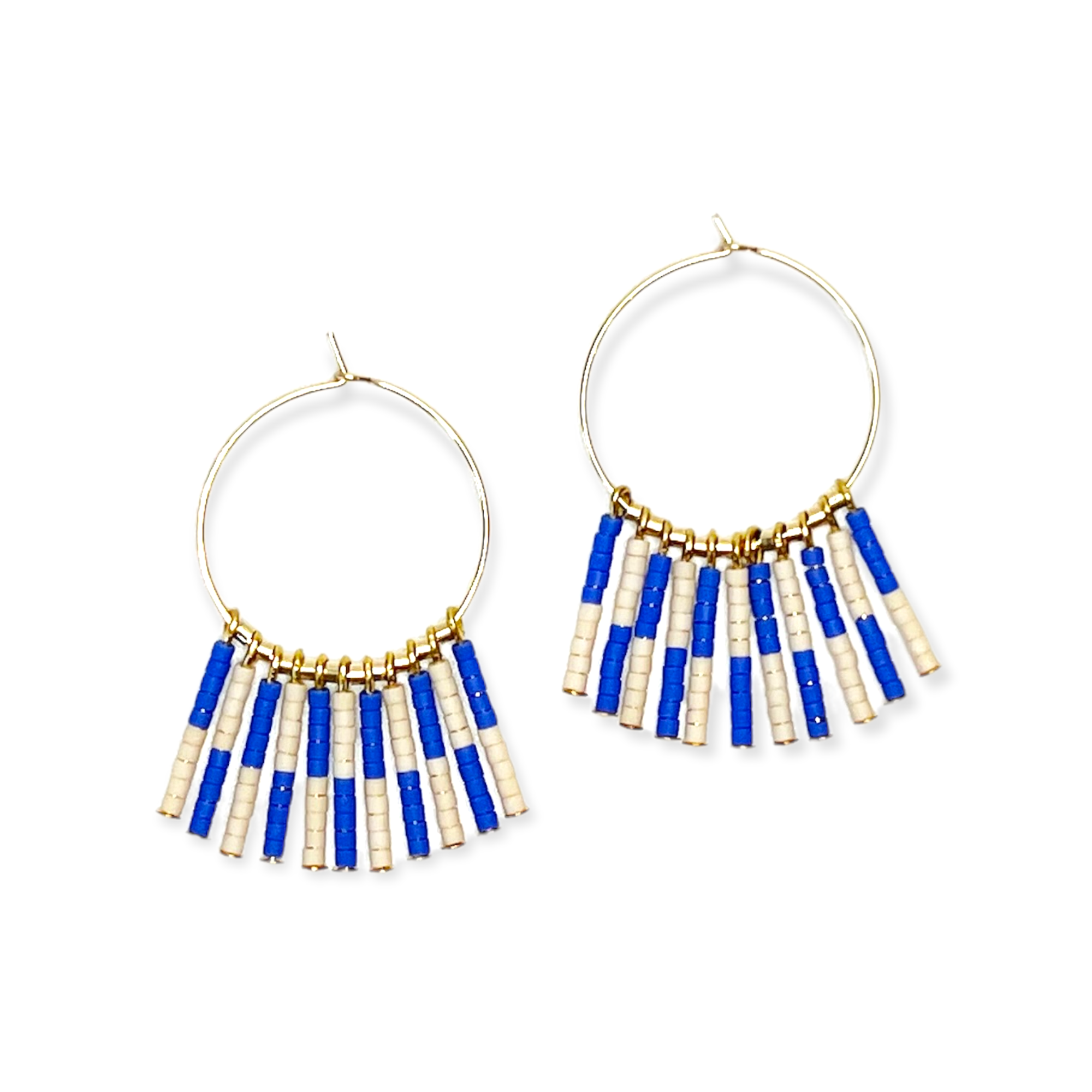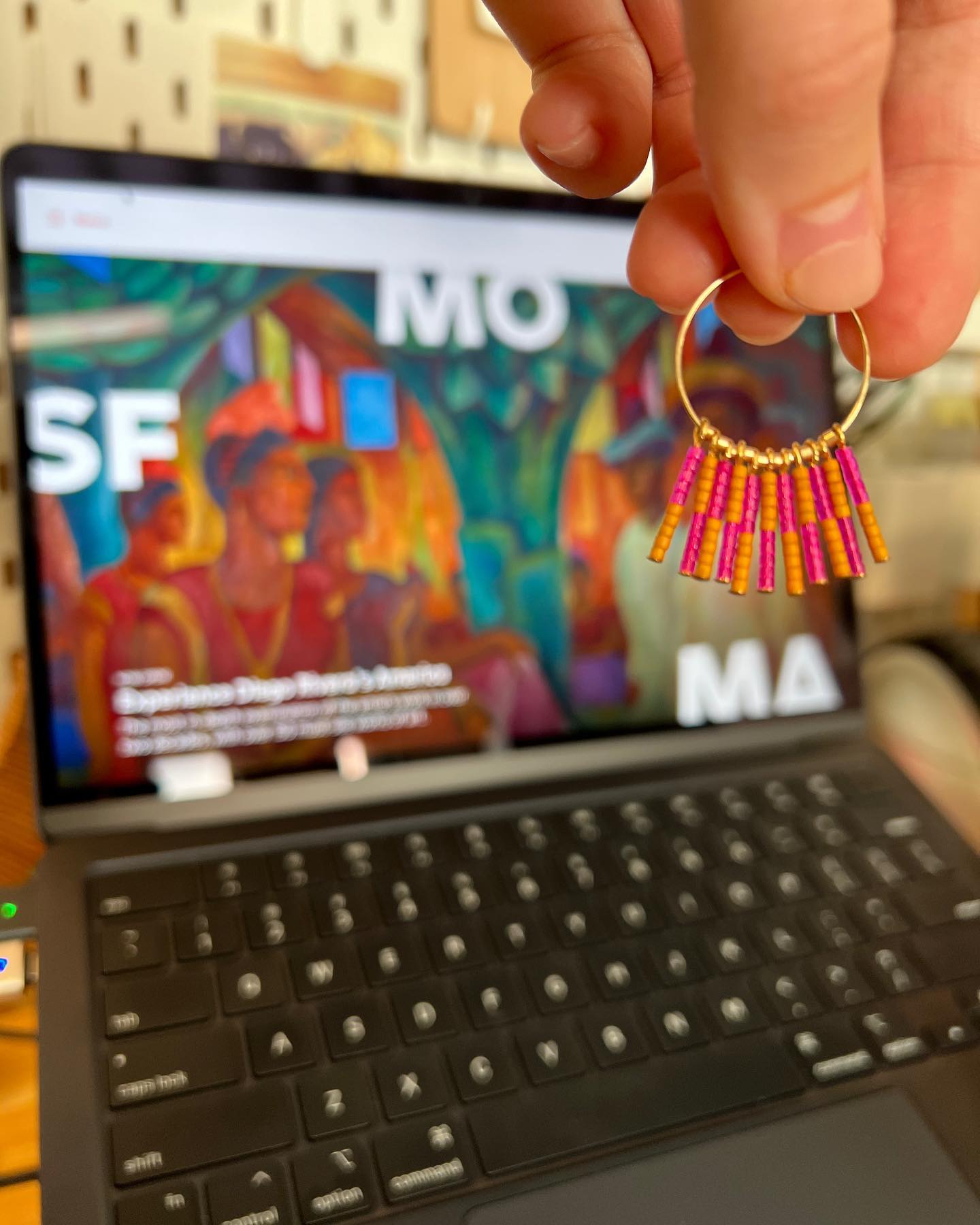 Kaleid Fringe Hoop Earrings
Elevate your ear game with our show-stopping Kaleid Fringe Hoops – a burst of excitement and color that refuses to be ignored! These hoops are not just earrings; they're an embodiment of fearless style. Get ready to turn heads as you rock the beaded fringe in the boldest of hues.
Crafted from durable 14k gold-filled and meticulously adorned with hand-beaded Japanese glass beads, the Kaleid Fringe Hoops are the ultimate expression of modern personality. These statement earrings don't just complement your look; they become the focal point of your ensemble.
As the cornerstone of the Kaleid collection, these hoops draw inspiration from prismatic colors and patterns, celebrating your vibrant spirit. Handmade with love in our central Texas studio, each piece carries the essence of artistry and dedication.
Dare to be different with the Kaleid Fringe Hoops – your bold entrance to any occasion. From street style to evening glam, these hoops redefine what it means to make a statement. Elevate your vibe – shop now and let your colors shine!
Hoops are approximately 3/4 inch in diameter with 1/2 inch fringe.

Materials: 14k gold-filled hoops, Japanese glass beads.

14k gold-filled will maintain its thick layer of solid gold for a lifetime of wear. Simply clean with a soft cloth.

While 14k gold-filled metal is waterproof and will last decades, jewelry should be removed before swimming or showering to help maintain condition.
The Kaleid collection grew from a need for bright prismatic color in our life! While we so often luxuriate in neutrals and subtle, dusky tones, we also crave bold, pigmented color. Vibrant colors that pop and play off of one another in a kaleidoscope of pattern.
Orders ship within 1-3 business days from Texas.
Custom items will ship within 7-10 business days.
Orders typically take 2-5 days to be delivered once shipped.
Tracking information is provided via email from hi.there@sonofasailor.co upon shipment of your order.
Yes! Son of a Sailor accepts returns on most new, unused items within 14 days of delivery for store credit. Please note that shipping is not refundable.
If you would like to return an item, please contact us with your order number and details about the product you would like to return. We will respond quickly with instructions for how to return items from your order.
Take a look at our full return policy here.
Share
Our small team forges, strings, welds, and wire wraps all of our jewelry in-house, so you know where your pieces come from.
All of our jewelry is handmade in our
San Antonio and Austin studios.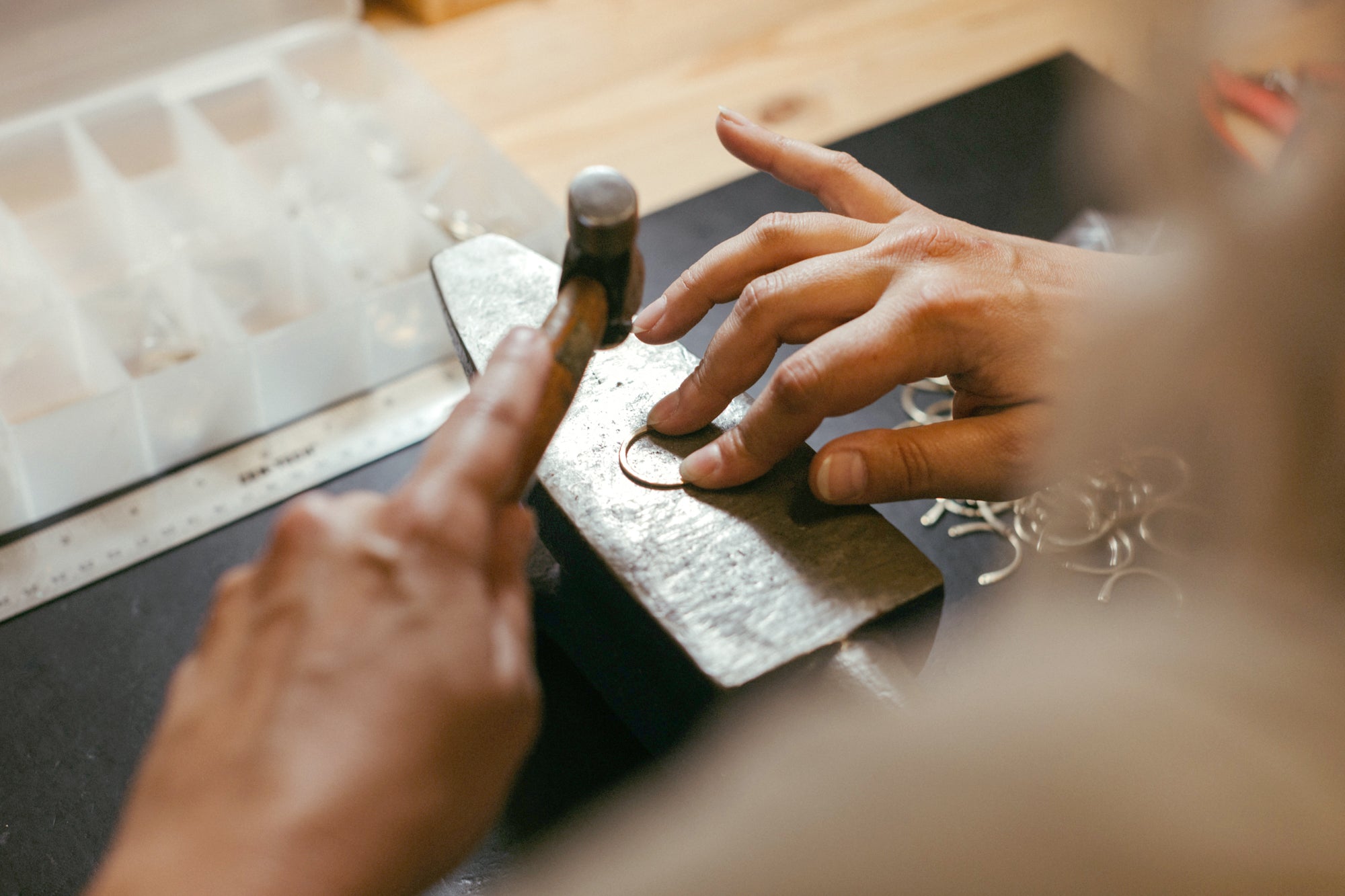 Billy & Jessica are a husband and wife design team creating Son of a Sailor's original designs since 2011.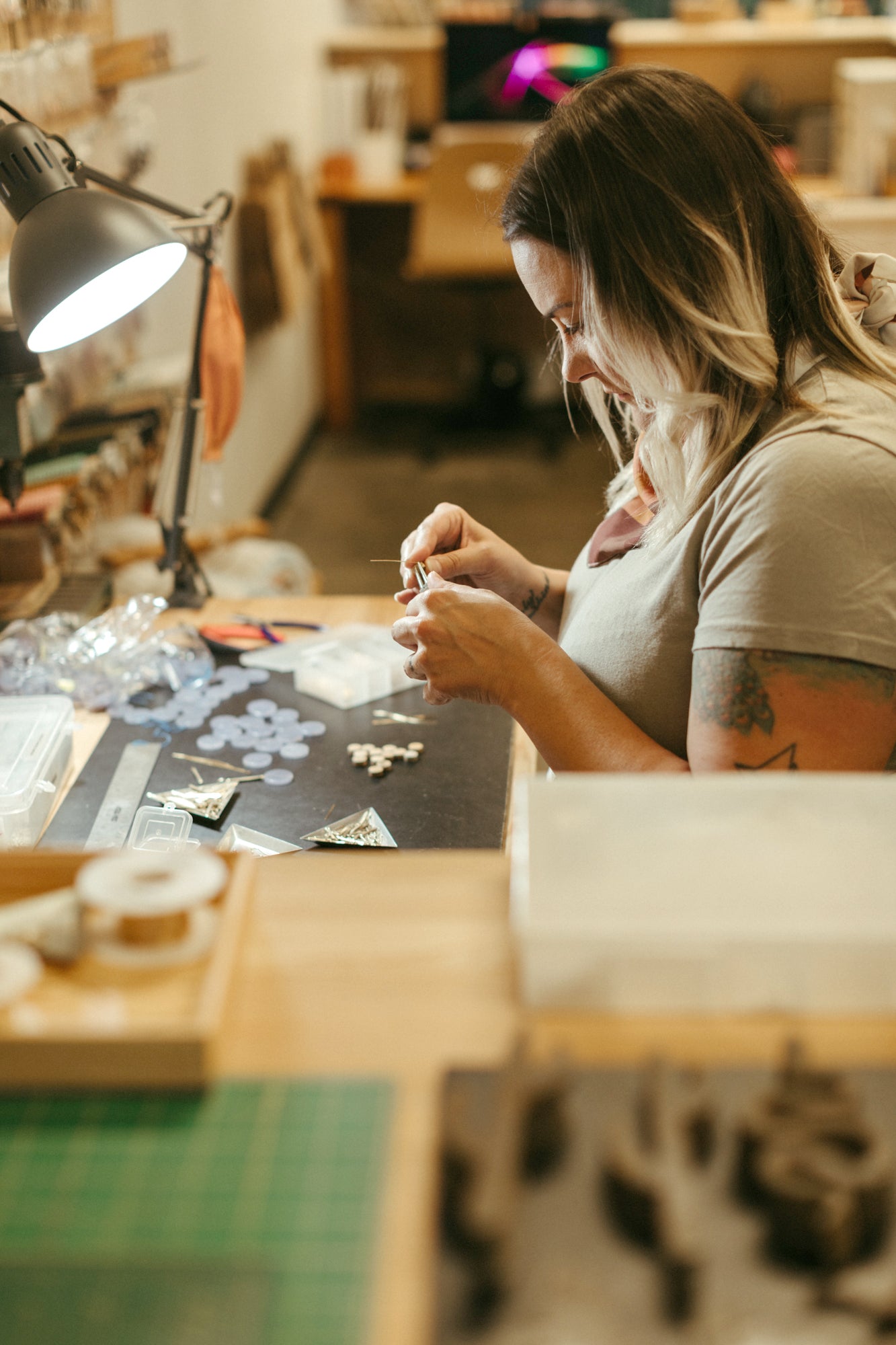 We work with the highest quality materials at an accessible price point to add heirloom pieces to your collection.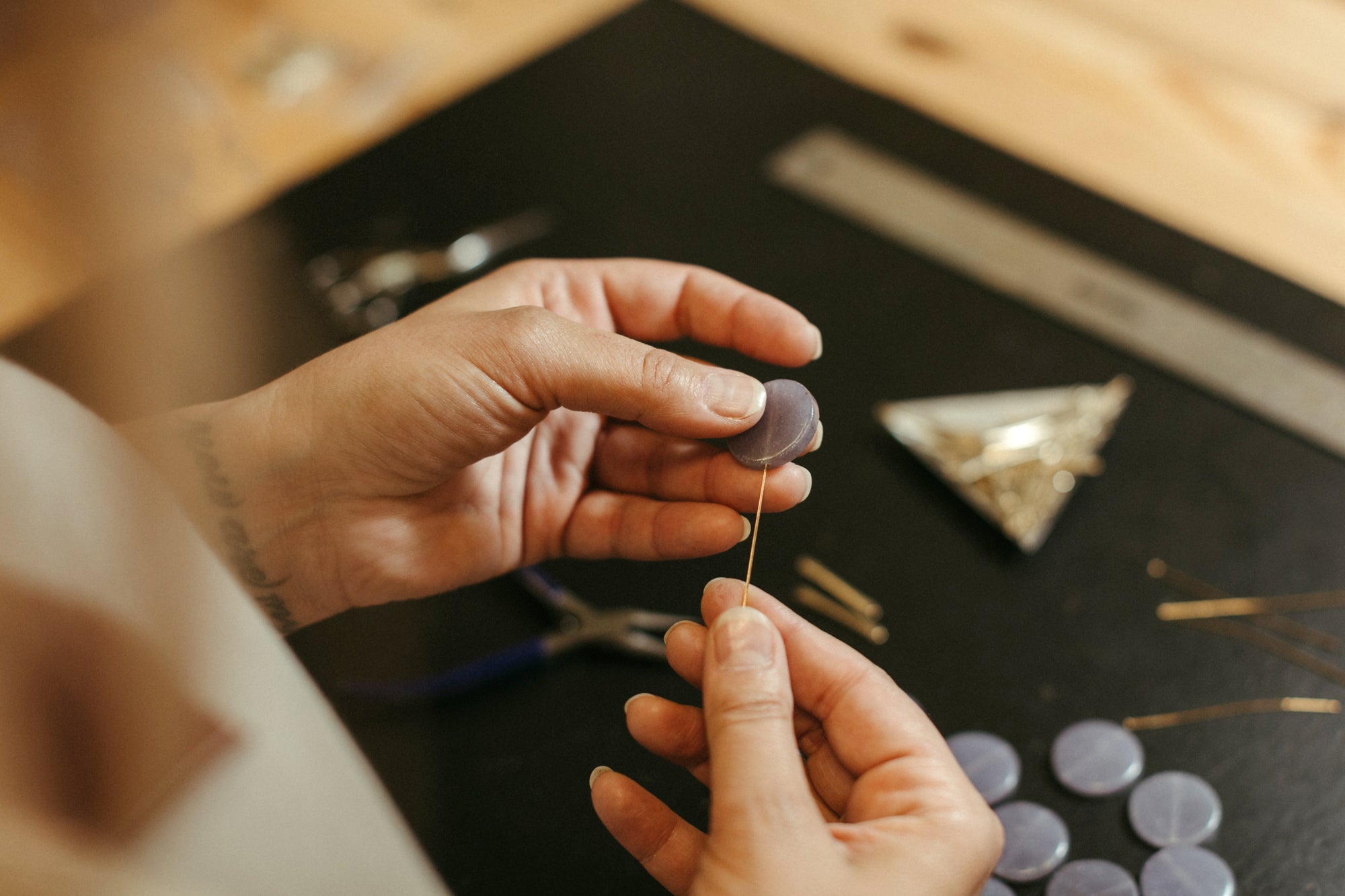 billy + jess
In 2011, Billy + Jessica launched Son of a Sailor out of their East Austin home. Before they were even married, they knew they wanted to join forces creatively. Over a decade later, Son of a Sailor has become a staple Central Texas brand with two brick & mortar locations. Get to know the hands behind the goods.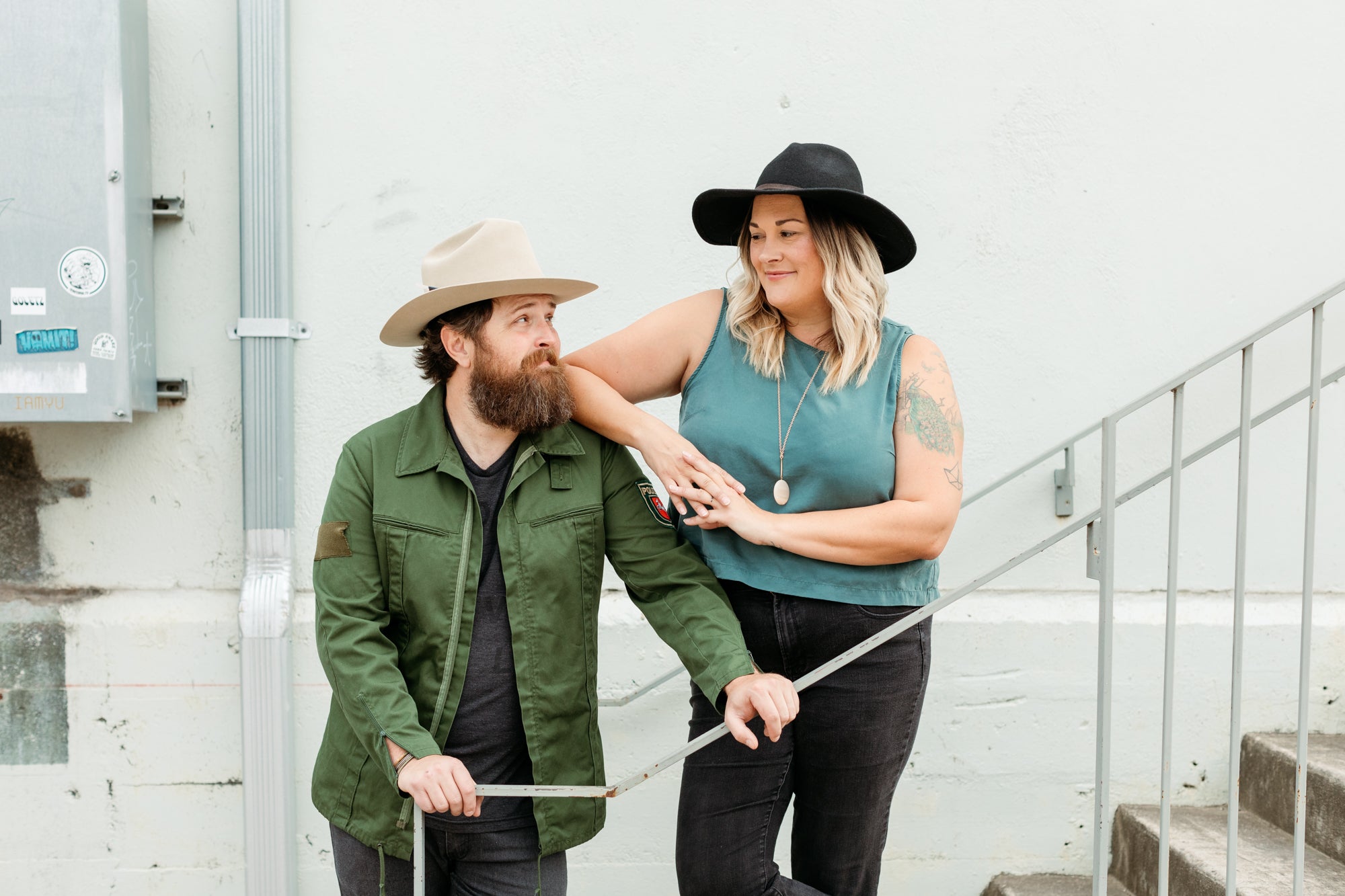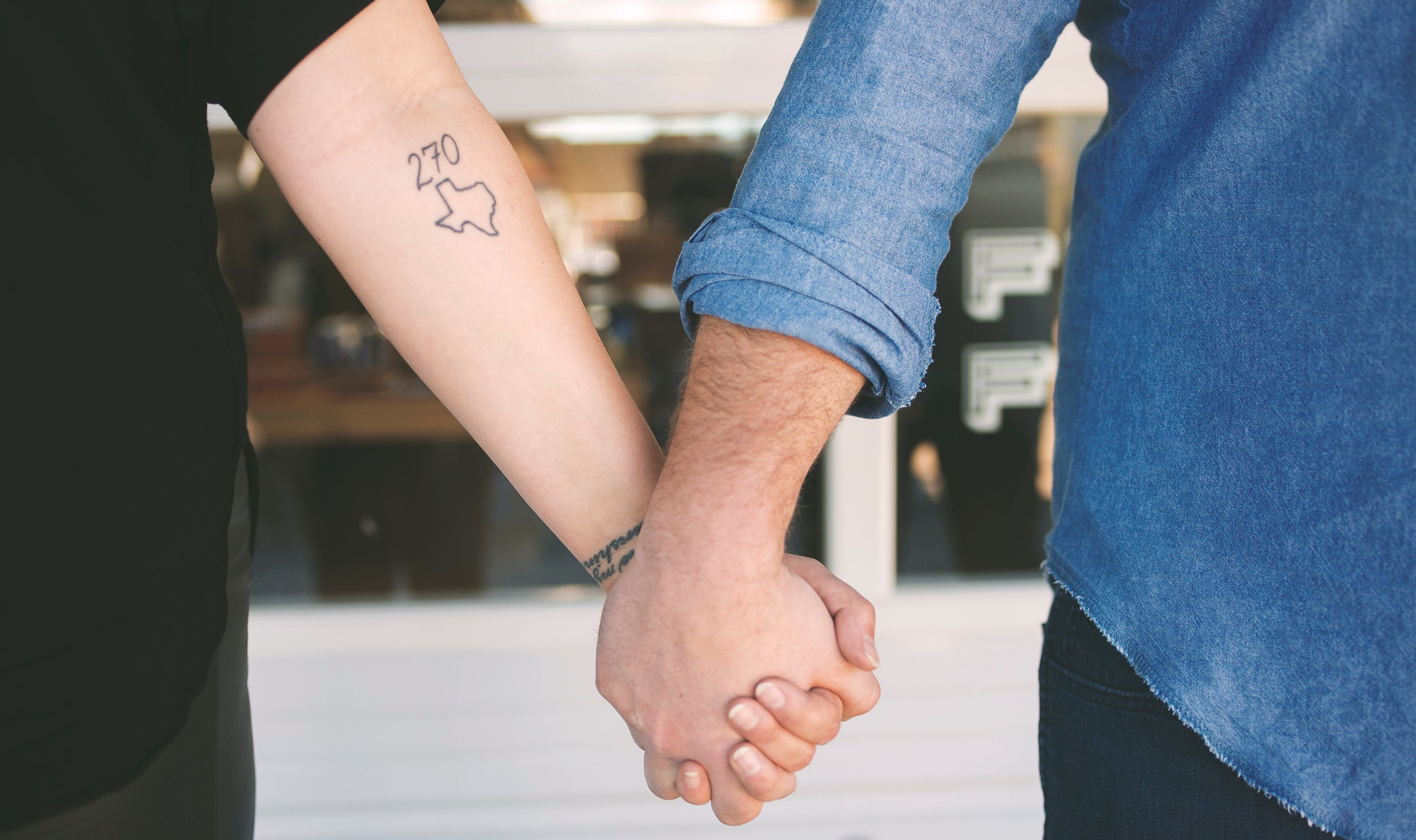 deep in the heart of texas
While Jess was born in Texas, Billy "got here as fast as he could" as they say. Each having moved around the country more than their fair share, Billy and Jess met in San Francisco, and before too long Billy brought Jess back home.
A graphic designer and screenprinter by trade, Billy's work takes on organic forms while Jessica's background in fine art photography gives her a strong eye for framing, precision and composition. Son of a Sailor was born out of their shared love of thoughtful design and the ways it can spark joy in the lives of others.
made by hand
With the belief that a rising tide raises all ships, they work hard to preserve the art of the handmade. Much of the inspiration behind Son of a Sailor's products comes from the application of color, pattern and geometry to materials with a rich history and story.
In our shop, you'll find jewelry and lifestyle goods ranging from beaded earrings and bracelets to painted keychains, playful home goods and men's leather accessories—all of which are designed with the intent of bringing happiness to life's daily necessities.