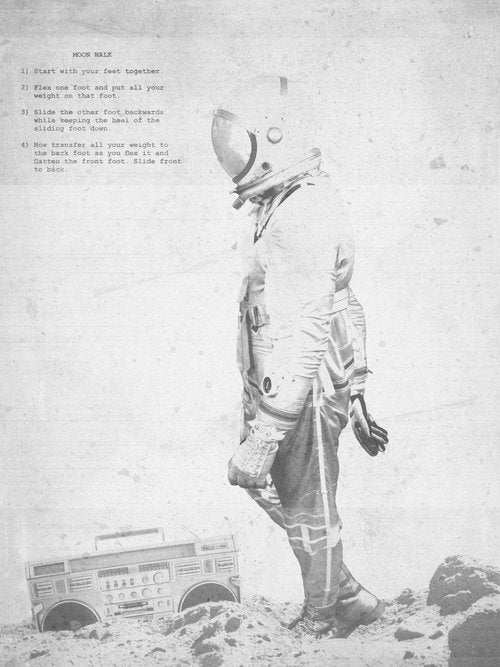 Art Print | "Moonwalk" by Jason Brueck
Fine art print by Jason Brueck, aka Alter Images.
Featuring a captivating photograph of an astronaut and boombox, this poster also includes step-by-step instructions on how to master the iconic dance move: the Moonwalk. Learn to glide and slide with effortless style as you follow the easy-to-follow directions.
All fine art prints come matted, signed, titled and numbered on enhanced matte paper, with the use of archival inks.

Made by Jason Brueck, Alter Images.

16 in. wide x 20 in. high (without matte, picture is: 12.5 in. wide x 16.5 in. high)
"I draw inspiration from images both past and present, light and dark, often times combining the two in hopes of creating a counterbalanced symmetry. My goal is to take the seemingly unimaginable and make it a visual reality by blurring the lines between the real and the surreal, creating a story where final interpretation is open to multiple realizations. There are a number of paths in my work... which one is ultimately chosen is left for you to decide."

-Jason Brueck
Share