Each of the ceramics collections offered at Son of A Sailor has its own style and story to tell, because we support individual artists who make the world a little more vibrant and special.  Get to know a few of the creators we are privileged to work with.
Carter + Rose
Some of the friendliest faces in our store belong to Stevie, Selma, Sammy, Sofie and Sylvia – the incredibly popular ceramic snakes that live on our walls, lounge on our tables and keep our plants company.  Each of our slithery friends is handmade in Portland, Oregon by Carter + Rose, a small business owned by artist Anna VonRosenstiel. Anna first got familiar with her medium almost by accident, when she was working at an elementary school and found a ceramics kiln in the janitor's closet. Anna began Carter + Rose in 2014 as an open maker's space and still makes her collections of snakes, planters and decor by hand with Oregon clay.  
Eliana Bernard
Closer to home, ceramics artist Eliana Bernard has been creating ceramic art and home goods in her East Austin studio, Made By Eliana, since 2014. Son of a Sailor is proud to carry her southwest-inspired Sol dish, tile wall hangings, incense domes and decorative platters.  We also collaborated on our popular mezcal board sets, featuring 4 oz serving cups made by Eliana and walnut or maple serving boards from Son of A Sailor.  Eliana uses slab and slip-casting techniques for most of her products and always focuses on small batches.  In her words "I believe that the objects we bring to the table and home are important. That's why I take the time and care to create pieces that will make mealtimes more special, gatherings more meaningful and the home more beautiful, in hopes that you will enjoy each item as much as I enjoy making them."
East Wheeling Clayworks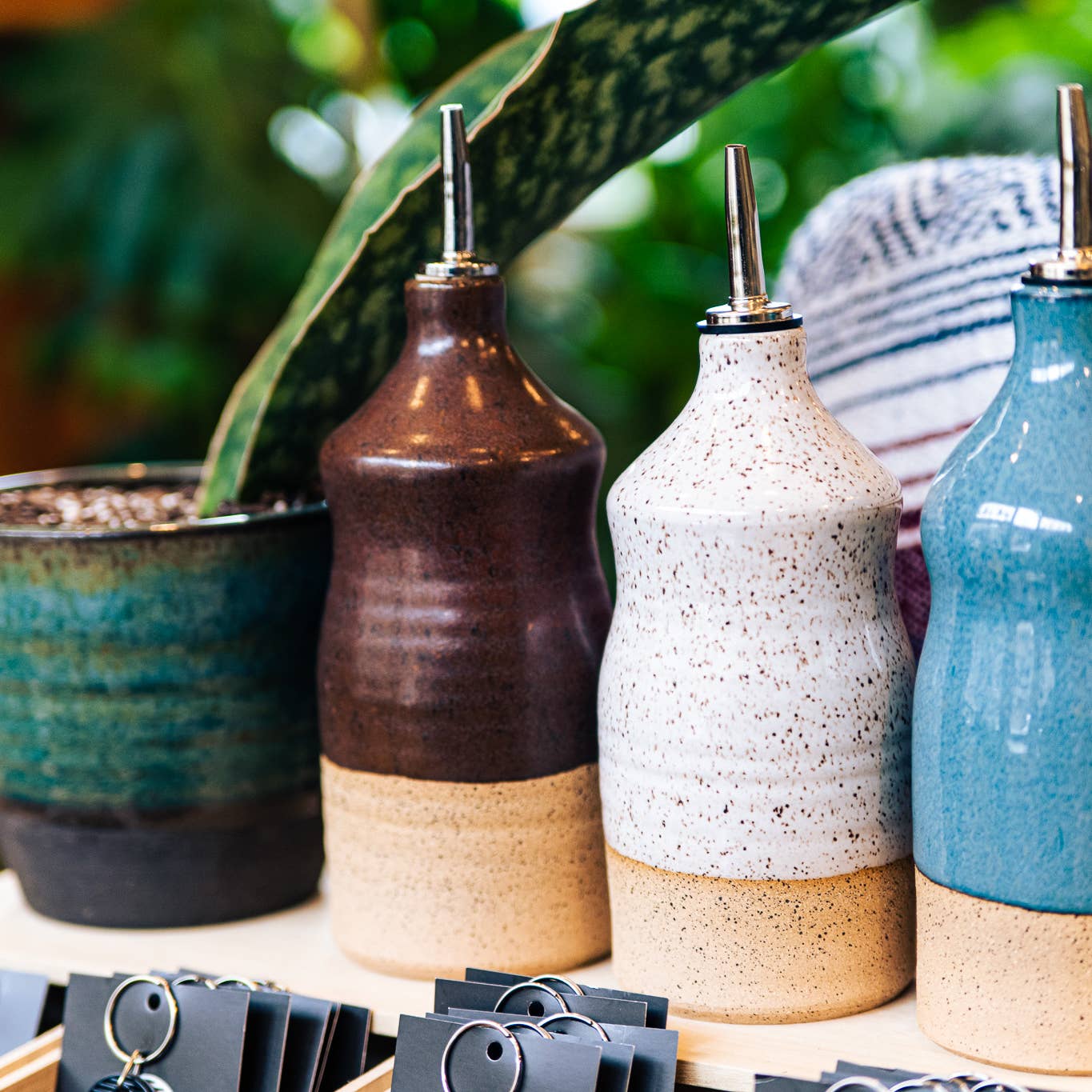 Our newest ceramics artist is East Wheeling Clayworks, a team of creators in wild and wonderful Wheeling, West Virginia.  Adam and Beth Bedway started their studio in 2016 and have built a team of six human artists and one feline supervisor.  East Wheeling Clayworks hosts classes and open studio time as well as supplying a number of handmade home and garden goods to Son of A Sailor including their colorful match strikers, planter saucers, oil bottles and perfect-sized pinch jars.