When it comes to adding a touch of charm and elegance to your ensemble, sometimes it's the smallest details that make the biggest impact. Son of A Sailor's delicate anklets are exactly that sort of detail, the perfect accessory to enhance your look and embrace the carefree spirit of summer.
One of the standout features of Son of a Sailor's anklets are their versatility. Whether you're strolling along a sandy beach, attending a summer festival, or simply adding a touch of bohemian charm to your everyday look, these anklets are the perfect accompaniment. Their delicate designs and understated elegance allow them to complement any style or occasion. Our anklets are all made with care and love at our Texas studio. 
Our incredibly popular beaded anklets come in a full rainbow of colors and styles.  Each is made with our exquisitely crafted Japanese glass beads and either brass or 14k gold-filled findings that give your anklet a lifetime of beautiful wear.  Each collection of the beaded anklets has a different inspiration and sets a different tone.
Kaleid Anklet
Our Kaleid patterned collection grew from a need for bold, pigmented colors that summer cries out for.  These vibrant beads and the exposed 14k gold-filled chain  play off of each other like shapes in a kaleidoscope.  Kaleid anklets are currently available in neon pink with olive, fuchsia with mustard, and periwinkle with cream.
Irena Anklet
Our Irena solid color anklets are some of our most sought after pieces.  Each Irena anklet features one brilliant color of Japanese glass beads on a nylon or silk cord with brass or 14k gold-filled findings. Irenas are a youthful and fun accessory that embodies a spirit of wanderlust.  Irena anklets are available in periwinkle, dark teal, rose, pale pink, dusty seafoam, olive, fuchsia and topaz.  We are also happy to make custom Irena anklets in even more colors through our custom listing.
Septima Anklet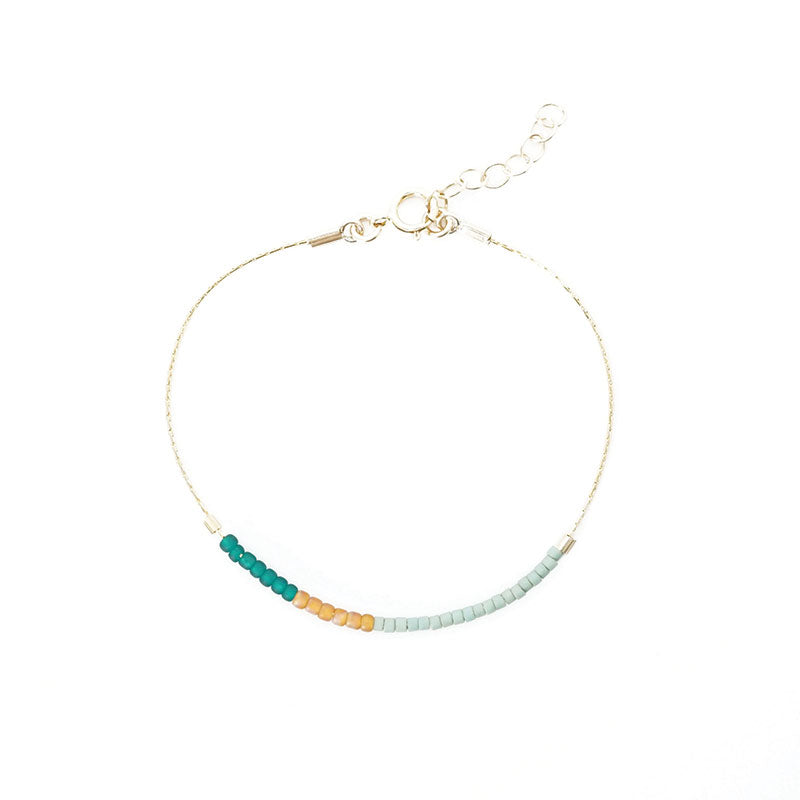 The Septima anklet is an elevated combination of beading and a delicate 14k gold-filled chain. This piece is truly the best of both worlds and available in either patterns or single colors.  The patterns Dawn, Dusk and Sunset are inspired by the changes in the sky from day to night and perfectly complement any mood or occasion.  The Septima is also available with the single colors dark teal, pale pink, neon pink, fuchsia, olive, lavender, dusty seafoam or topaz.
Chain Anklets
Our classic chain anklets in Zoe, Lana, and Bev styles are all heirloom quality 14k gold-filled and each chain style has a sister piece in necklace and bracelet lengths for a complete look.